Cooler Master Masterbox 5 Case Review
Author:

Dennis Garcia
Published:
Thursday, July 07, 2016

Breaking down the MasterBox
Despite the modular aspects of the MasterBox 5 the layout is very traditional with motherboard, drives and powersupply in their normal locations.
Well, almost normal. At the top of the case you would normally find external 5.25" drive bays whereas the MasterBox has none. The default configuration favors SSD mounting trays however, if your build requires an external drive you can get these from Cooler Master along with a replacement front panel.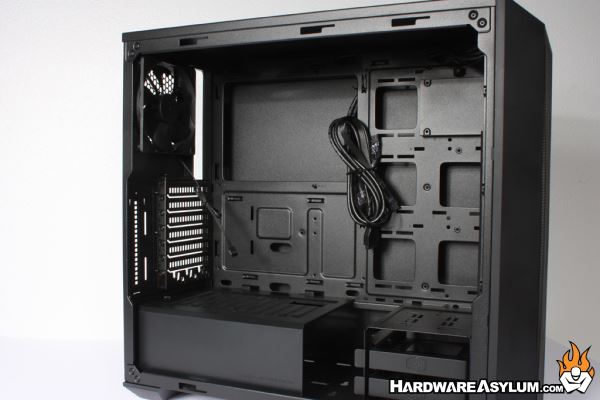 At the bottom of the case you will find a 3.5" drive rack supporting both 3.5 and 2.5" drives on removable trays. To the left of the drive rack you'll find the power supply which is also partially covered by a removable plastic panel. With this panel removed you have easy access to the PSU and cables.
The lower drive rack is removable and can be repositioned in three different locations at the bottom of the case to facilitate radiator and fan installations. Of course if you prefer to have the HDD cage positioned in a more traditional location you can attach it to back panel and arrange it vertically. Or, it can be removed completely giving you more room for more watercooling gear.
SSD drives have become extremely popular in recent years and the MasterBox 5 supports one exposed drive out of the box, three if you use the removable combo trays. You have the option to purchase additional SSD trays for a total of five exposed SSD drives. Three mounted directly to the case, one on top of the lower HDD rack and the last mounted behind the motherboard tray.
This kind of versatility goes a long way when it comes to customizing your case allowing the majority of us who only need a single hard drive to clean up the case internals with very little modification. Of course for those who actually need more hard drive locations they can buy expanded drive cages from Cooler Master and install them however they want.