Cooler Master Masterbox 5 Case Review
Author:

Dennis Garcia
Published:
Thursday, July 07, 2016

MasterBox Cooling and Constriction
The MasterBox comes equipped with two 120mm cooling fans. One located at the front of the case and the other located in the rear in the typical exhaust location. Unlike with some other popular cases the MasterBox comes with no top venting and no provision to install a larger exhaust fan.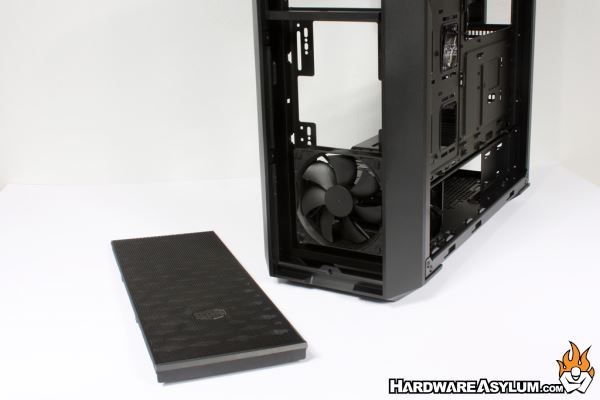 You can install up to a 360mm radiator with optional support brackets however the largest radiator supported in the default configuration is a 280mm radiator at the front of the case.
It is strange to have a modular case like this "not" feature a top mounted fan location and in terms of cooling performance there are more intake opportunities than exhaust which would favor positive air pressure.
However, in this situation the layout is leaning towards silent cooling over raw airflow.
Case Construction
Case construction is quite good with the inner frame being constructed from quality SECC steel. All of the corners are rivet reinforced with very clean locking joints indicating that the Cooler Master manufacturing process is still extremely good.
The side panels are made from very heavy gauge steel with angular reinforcements to provide strength and rigidity. Cooler Master has installed a slightly shaded window that isn't dark enough to completely obscure the case internals but does provide some light resistance for a good reflection.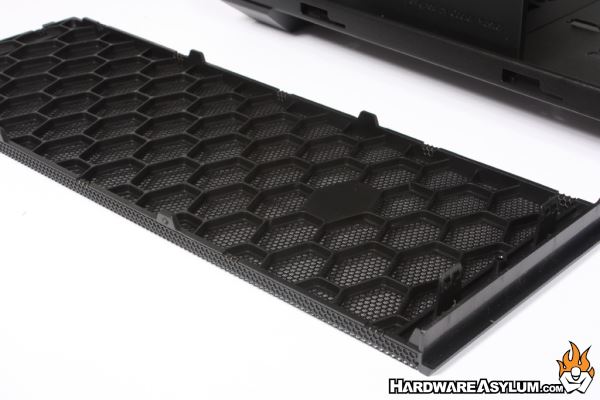 Cooler Master handled the front bezel in a very cost effective way. The MasterBox featured in this review doesn't have any external drive bays and as a result the front panel extends the full length. If you require external drive bays you can buy a replacement panel with the proper openings or modify the panel to suit your needs. This sort of interchangeability is a nice touch that allows modders to easily customize the front panel without destroying the rest of the front bezel.