Cooler Master Masterbox 5 Case Review
Author:

Dennis Garcia
Published:
Thursday, July 07, 2016

MasterBox 5 System Install
In an attempt to provide a bit of scale I installed the Gigabyte 990FX Gaming motherboard to check motherboard alignment and see what kind of cooling clearances we have to work with. With the motherboard installed there is still plenty of room to route cables. Room at the top of the case is restricted meaning that fan placements will require some additional planning, and will need to be cut by hand.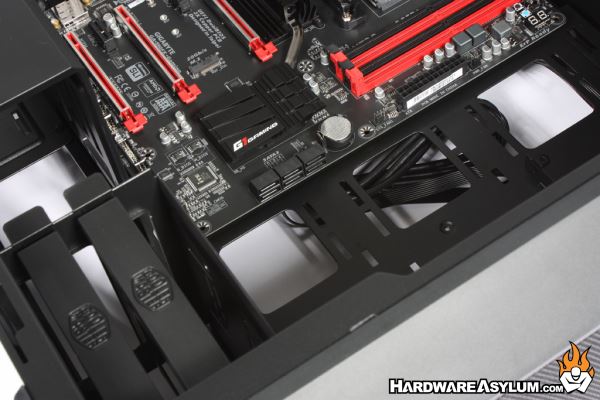 Cable routing is quite nice on the MasterBox 5. You will get over an inch of space behind the motherboard for excess cables and plenty of cable tie points all over the chassis. The case does lack rubber grommets and the plastic PSU cover doesn't extend much past the PSU so is no elegant way to hide where the cables are going.
The holes punched into the motherboard tray for cable access are positioned for looks and are spaced at even intervals. Unfortunately these intervals do not line up with the 990FX motherboard layout despite how elegant the layout is.