Cooler Master Masterbox 5 Case Review
Author:

Dennis Garcia
Published:
Thursday, July 07, 2016

Introduction
Casemodding is the process of modifying your computer case to suit your needs. Sometimes this is something simple like a color change or can be more involved to support a complex water loop or hardware the case was never designed to handle. Either way the distinguishing factor is changing something on the case. In the early days casemodding was rather easy to spot because the modifications required a fair amount of skill to complete.
With the rise of modular case designs the modding aspect of casemodding has become simpler allowing users to assemble creative system builds that would have been otherwise impossible to accomplish, at least by a novice user.
In this review I'll be looking at the MasterBox 5 from Cooler Master. The MasterBox is a new series that brings with many of the modding concepts found in MasterCase Series at a much lower pricepoint.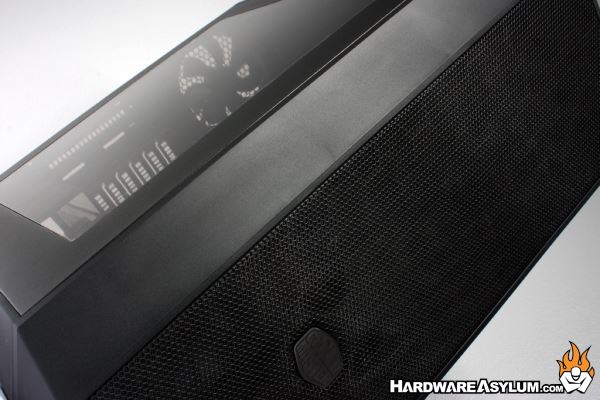 Specifications
Model Number MCX-B5S1-KWNN-11
Available Color Black
Materials Steel body with Plastic mesh bezel
Dimensions (LxWxH) 500 x 220 x 475mm
Motherboard Support ATX, Micro-ATX, Mini-ITX
Expansion Slots 7
Drive Bays
- 5.25" 2x Cages are sold separately
- Combo 3.5"/ 2.5" 2x
- SSD 1x
I/O Port USB 3.0 x 2 / Audio
Pre-installed Fan(s) Front 120mm x 1 / Rear 120mm x 1
Fan Support
- Front 120mm / 140mm x 2
- Rear 120mm x 1
Liquid Cooling Support
- Front 240mm / 280mm radiator, up to 50mm thickness without fan
- Rear 120mm
Cable Routing 25mm - 35mm
MasterBox 5 is available in two styles. The first is featured in this review with a metal mesh front panel and black frame. The second is painted white and comes with a DarkMirror front panel. Chassis design and layout are identical between the two so it will come down to personal preference on which one you choose.
In my case reviews I attempt to look at the case through the eyes of the casemodder and will be looking at things like case construction, cooling and modding opportunities. These features can be important as they will determine the level of effort needed to complete a modding project and may even help users decide if a particular case will even work for their build.