Cooler Master MasterCase Pro 3 Case Review
Author:

Dennis Garcia
Published:
Tuesday, August 30, 2016

Introduction
Make It Yours
That is the Cooler Master motto used to describe the new MasterCase and Maker series of products that have been aggressively targeting the "maker" crowds. These are the types of people who have been known to create a thing or two and can be anyone from casemodders and hardware enthusiasts to painters and musicians. All of these people can benefit from a custom PC and shouldn't be afraid to build it themselves.
In this review I'll be looking at the MasterCase Pro 3 from Cooler Master. This is a downsized version of the popular MasterCase 5 and shares all of the same great features found in that series including overall appearance and the versatile FreeForm Modular System.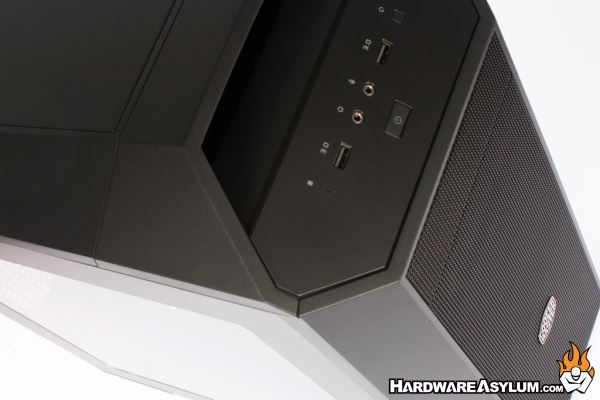 The modular nature of the MasterCase Pro 3 means that a variety of different gear can be installed and the specifications below are what is provided out of the box.
Specifications
Exterior Color Dark Metallic Grey
Interior Color Black
Form Factor MATX Tower
Supported Motherboard Micro-ATX and Mini-ITX
Materials SECC, Plastic
Item Dimensions (W x H x D) 467x 235 x 505 mm / 18.4 x 9.3 x 19.9 inches
Drive Bay
- 5.25" 0
- 3.5" 2
- 2.5" 2+2
Front I/O Panel USB 3.0 x2, Audio In & Out (supports HD Audio).
Expansion Slots 5
Cooling Mounts
- Front:140x25mm fan x1, 1200RPM (pre-Installed) / 140x25mm fanx1 (optional)
- Rear:140x25mm fan x1, 1200RPM (pre-Installed) / 120mm fan x1 (optional)
- Top:120/140mm fan x2 (optional)
Radiator Support
- Front: 120mm, 140mm, 240mm, 280mm
- Rear: 120mm, 140mm.Top: 120mm, 140mm, 240mm
Included Cooling Devices
- Front: 140x25mm fan x1, 1200RPM (pre-Installed)
- Rear: 140x25mm fan x1, 1200RPM (pre-Installed)
Power Supply Bottom Mount, ATX PS2(Maximum Length: 200mm)
Maximum CPU Cooler Height 190mm / 7.48 inch
Maximum Graphics Card Length 412mm / 16.22 inch (without 3.5" HDD cage) 296mm / 11.7 inch (with 3.5" HDD cage)
There is currently only one version of the MasterCase Pro 3 which would be similar in configuration to what is provided with the MasterCase Pro 5 with a few extras to support more watercooling. Of course you can buy upgrades later and simply replace the items as needed.
In my case reviews I attempt to look at the case through the eyes of the casemodder and will be looking at things like case construction, cooling and modding opportunities. These features can be important as they will determine the level of effort needed to complete a modding project and may even help users decide if a particular case will even work for their build.