Cooler Master Masterbox Q500L Case Review
Author:

Darren McCain
Published:
Thursday, April 11, 2019

Conclusion
To give a better idea of the space we installed an EVGA x299 Micro motherboard along with a Cooler Master MWE 750 Gold Power supply. This presents the optimal use of space saving but even a full ATX leaves enough room for a graphics cards up to 270mm with no conflicts. Power supplies up to 160mm (140 if you plan to use a top radiator) fit with ease.
This view gives you an idea as to how close the motherboard will be to the PSU. The EVGA X299 is a Micro ATX case so, naturally there will be more room at the bottom.
The top of the case does have provisions for exhaust fans to be installed. Ideally this will be used for AIO watercoolers such as the Cooler Master MasterLiquid Pro. From there you'll as fans as needed to keep the internal case temperatures under control. Every build is different so keep that in mind when you are at the planning stages.
Conclusion
It is safe to say Cooler Master has embraced the trend towards mini tower designs. The Q500L may be small but it offers more versatility than cases more than twice its size! Not only that but it will accept a full sized ATX motherboard build and still have room for a solid water-cooling setup.
Overall I love the option to build horizontal and still have a window and reminds me a little of the HAF XB allowing you to place the motherboard flat and have your components all behind the motherboard tray.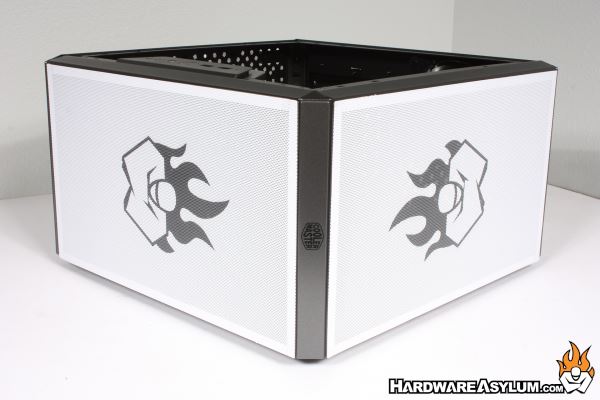 On the grand scale the Q500L is a challenging case to build in. This is due mostly to the limited amount of space that will require more work and planning up front in regards to where cables will run, what components you'll be using and, most of all, if they will fit. Rest assured that the effort will reward you with one of the most unique looking builds available and still perform like a full sized case.
If you are looking for a smaller case that offers no compromise and maximum versatility look no further than the Cooler Master Masterbox Q500L. Your efforts will be rewarded with one of the most interesting cases Cooler Master has ever produced.