Phanteks Eclipse P300 Tempered Glass Case Review
Author:

Dennis Garcia
Published:
Tuesday, November 21, 2017

Case Interior Storage and Install
The interior of the Phanteks Eclipse P300 is very similar to other Phanteks cases which take a minimalist approach to the interior design. By this I mean you only get what you need leaving you more room to install the stuff you want.
Longer video cards up to 330mm in length can be installed in the P300. This is quite a bit of space given that there isn't any internal drive bays to get in the way.
The back of the case allows you access to dual tray mounted 2.5" SSD trays. You won't find any grommets for cable routing but there is a rather large gap near the edge of the motherboard tray for getting cables back and down to the PSU.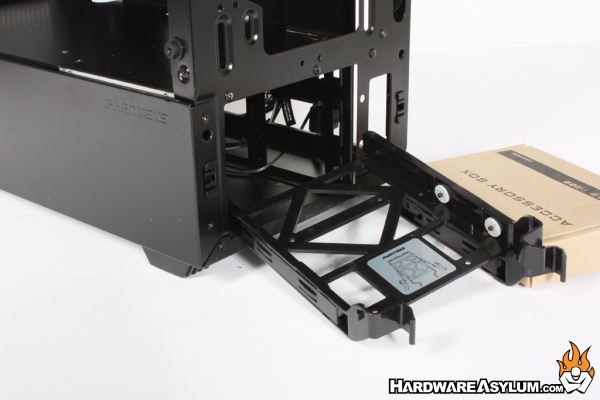 Despite lacking an external 5.25" drive bay the Phanteks P300 has plenty of storage options. The main HDD rack is located under the case divider and supports two drives in pull out plastic trays. You'll need to remove the front bezel to access the drive rack which also stores the included accessory box for shipping.
System Install
In an attempt to provide a bit of scale I installed the Gigabyte Z270 Gaming SOC to check motherboard alignment and see what kind of cooling clearances there are to work with. The Gigabyte Z270 Gaming SOC is a standard ATX motherboard which sits quite well inside the P300.
For overall fitment the motherboard looks quite nice and you are left with plenty of room to work with. Cable management is handled via a large slot between the end of the motherboard tray and a separated panel that would normally hold internal hard drives.
Access near the top of the case can easily allow for a standard 25mm thick fan. AIO radiator support is best handled using the front fan mounting location or the single fan exhaust. This leaves the top vent to simply help vent the chassis.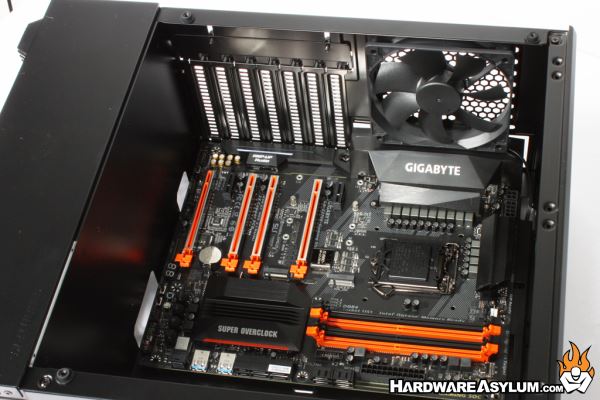 The challenge for the enthusiast builder is deciding if the Eclipse P300 is really the case for their build and if there are any modifications that need to be made. I already mentioned that using a 280mm radiator at the front of the case might require some modification for additional cooling. This is due to how the stamping was preformed and the Phanteks preference for 120mm fans in the P300.
Including a single 120mm fan helps to reaffirm this and the way I see it limits this chassis to being a budget build option over an enthusiast build. I also question support for DIY watercooling loops given a reduction in overall case depth to shrink the footprint. Overall this isn't much of a concern given the price point and if anything gives the builder an inexpensive tempered glass case option that actually uses a quality glass panel over what some of the competition is using.