Phanteks Eclipse P300 Tempered Glass Case Review
Author:

Dennis Garcia
Published:
Tuesday, November 21, 2017

Case Layout and Features
The Phanteks Eclipse P300 is sized at 7.8 in x 17.7 in x 15.7 in making smaller than your standard mid-tower chassis. P300 has no external drive bays but does feature two USB 3.0 ports and analog audio connections at the top of the case. You will also notice that the front of the case features a very ornate bezel that hides a versatile cooling panel that can support 120mm/140mm fans and radiators up to 280.
A single tempered glass side panel is mounted to the side of the case and secured with four thumbscrews sitting on rubber mounting pads. This has become a common feature with most modern computer cases giving the case a higher class appearance while also opening up viewable areas inside of the case.
Turning the case around you will notice that the power supply is located at the bottom of the case with a very large opening for the 120mm/140mm rear fan position. The slots around the outside allow you to position the fan vertically which can be helpful when running a top mounted radiator and rear fan.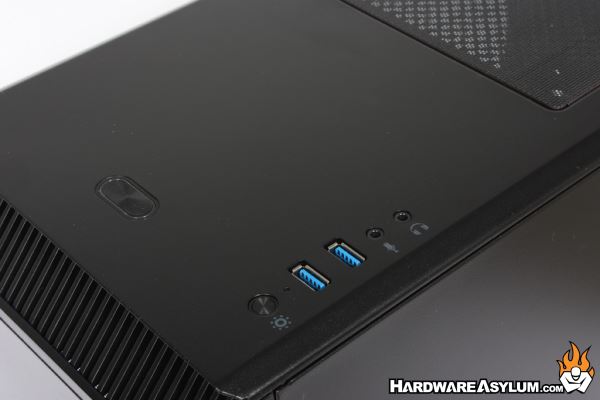 The power button is located on the top panel and would be clearly visible when the case is positioned on the ground. From the top of the case the USB ports and audio connections are located to the right while the power LEDs are located just above the top vent in the front bezel. This is a similar detail common to the Eclipse line of cases from Phanteks.
Case venting is a key feature of any computer and is something many users fail to account for when building systems. Despite having a solid glass side panel and mostly solid front panel there are some rather large vents in the P300. These are partially hidden by the design elements of the front bezel and are actually something most would likely miss or dismiss when viewing the P300 from afar.