Phanteks Eclipse P300 Tempered Glass Case Review
Author:

Dennis Garcia
Published:
Tuesday, November 21, 2017

Case Venting and Cooling Layout
The Phanteks Eclipse P300 features locations for a total of four 120mm fans at the front, top and back of the case. These locations also support 140mm fans with a total of three supported at the top and front of the case. Getting these fans to breathe can be a challenge and is something I believe the P300 is equipped to handle.
Starting at the top of the case you'll find a magnetic fan filter covering the top mounted fan location. I would consider these to be a secondary exhaust next to the fan at the rear of the case. Technically there is no need to filter exhaust air and a magnetic filter like this simply obscures the exhaust vent by covering the stamped metal holes.
At the bottom of the case you'll find a much larger filter covering the intake for the power supply. The feet are small with rubber tips and provide access to pick up the case and some airflow to the PSU.
The front of the P300 supports two 120mm fans which are covered by a folded steel front bezel. This bezel features two air vents at the top and bottom and is held in place with ball style friction clips for easy removal.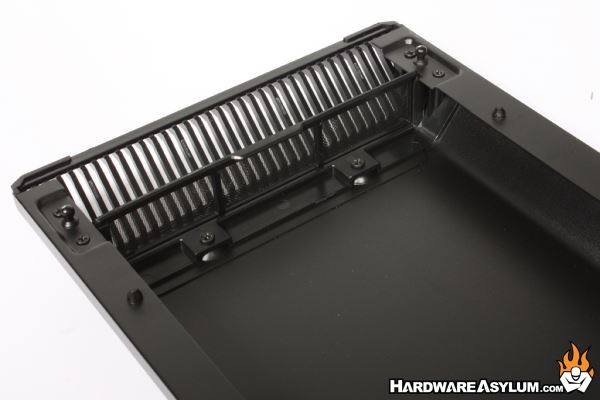 Each vent comes with a small fine mesh dust filter that just feels undersized for any system using more than a single 120mm case fan. They are easily accessed for cleaning and is something I suspect you will be doing every couple weeks.
Of course with the case apart you can get a good idea as to where the cooling fans are located. The P300 comes with a single 120mm fan with the intent that your AIO cooling solution will bring at least one more into the build. If you are the type for aircooling you will get enough access to support 140mm based CPU coolers with a maximum height of 160mm.
To accommodate a variety of different cooling configurations you will find two sets of mounting slots for 120mm and 140mm cooling fans. The slots not only allow for custom fan positions but also give you support for a variety of radiators and the ability to move the radiator around depending on your hardware requirements.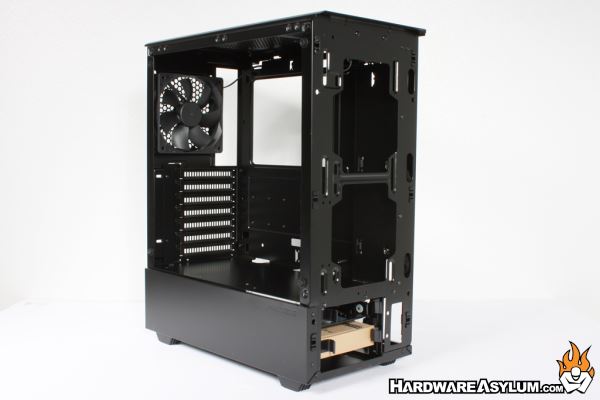 I would like to mention that with the Eclipse P300 there is a prevalence to support 120mm fans with 140mm fan support being more a value add than something you would normally use. This means that using a 280mm radiator will require some dremel work to open up the airflow to the larger radiator.
As a result 240mm based radiators would fit perfectly with good airflow.