Fractal Pop Mini Air Case Review
Author:

Darren McCain
Published:
Saturday, July 30, 2022

Fractal Pop Mini Air Interior and Features
Removing the front cover and sides reveals a very traditional layout with a couple of notable exceptions. The white-on-white theme is even carried over to the Aspect 12 fans, only the connectors are in black.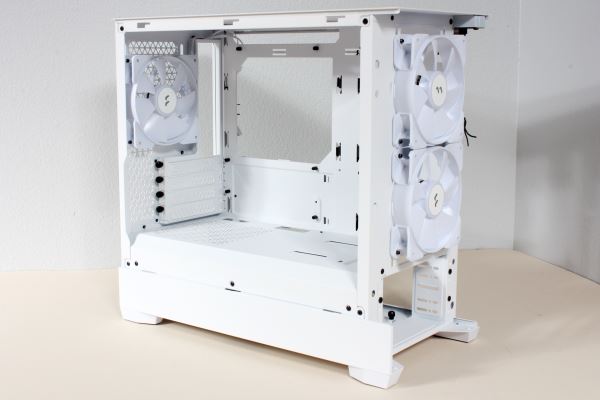 With the front cover removed we can see the two front 120mm Aspect 120mm fans. I am not sure why the front was not built with a magnetic mesh dust filter. A 240mm radiator would fit nicely. It also looks like a set of 140mm fans could be fitted with just a bit of custom work.
Fractal has placed a magnetic cover below the front fans. Removing this cover via the cloth tab reveals a small storage drawer. This storage cubby can be removed to make room for up to two full size optical drives. It's a nice touch that adds compatibility for those still using a 5.25 drive.
Editors Note: Or, you know, you could store stuff you want to hide and/or keep safe. I know you are all thinking it I'm just not going to write it down.

A fixed power supply shroud helps keep the power supply heat separate from the main components. A pretty good size passthrough up front and two smaller holes along the motherboard help with cable routing.
From the back we have a removable SSD tray that will hold two drives. A second SDD tray can be purchased separately to increase drive support to 4 SSD drives. Two removeable hard drive trays under the shroud bring the total supported drives to 4 SSD, 2 2.5/3.5 drives and two 5.25" drives. Wow!