Fractal Pop Mini Air Case Review
Author:

Darren McCain
Published:
Saturday, July 30, 2022

Introduction
Fractal Design has been building some of the most recommended case designs for years. With the Pop Air Series, they have dialed up the style by offering a variety of design choices coupled with some of the most innovative color schemes on the market today. Today we will be looking at their smallest offering: the Pop Mini Air.
As you might expect, the Pop Mini Air takes everything great about the series and shrinks it down to a mini ATX form factor. Will the tiny foot print affect performance? Let's find out!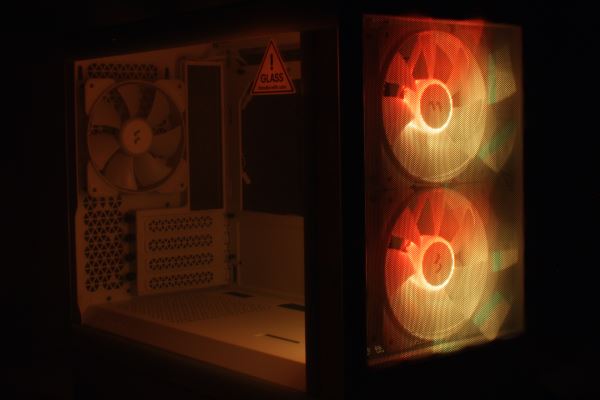 The Pop Air Mini is the smallest of the Pop Air Series and currently comes in only the more traditional black and white color schemes unlike the flashier color sets found in its siblings. We will be looking at the white or RGB White TG Clear Tint to be proper. The all-white color scheme has always been a favorite of mine as it showcases your components and lighting so well.
Let's take a look at the specs!
Features
Accommodates mATX / Mini ITX Motherboards
Easily mounted tempered glass side panel lets you showcase your components
Up to two HDDs and six SSDs (or one HDD and five SSDs with one optical bay in use)
Specifications
Storage:
Dedicated 2.5" drive mounts: 4 (2 included)
Combined 3.5/2.5" drive mounts: 2 (2 Included)
25" drive mounts: 2
Expansion slots: 4
Front interface: 2x USB 3.0*, Audio, RGB controller
Total fan mounts:
5x 120 mm or 2x 140 mm + 1x 120 mm
Front fan: 2x 120/ 1x 140 mm (2x Aspect 12 RGB included)
Top fan: 2x 120/ 1x 140 mm
Rear fan: 1x 120 mm (1x Aspect 12 RGB included)
Bottom fan: N/A
Dust filters: Top (perforated plastic), PSU (nylon), Front (perforated steel)
Cable routing grommets: No
Fixed cable ties: Yes, 2 pcs
Captive thumbscrews: HDD brackets, SSD brackets, Side panels
Left side panel: Tempered glass
Right side panel: Solid steel
Compatibility
Motherboard compatibility: mATX / Mini ITX
Power supply type: ATX
PSU max length: 150 mm
GPU max length: 365 mm with front fan mounted
CPU cooler max height: 170 mm
Front radiator: Up to 240 mm
Top radiator: Up to 240 mm (Up to 46mm RAM height)
Rear radiator: 1x 120 mm
Bottom radiator: N/A
Cable routing space: 19 mm
Dimensions
Case dimensions (LxWxH): 432 x 215 x 393 mm
Net weight: 5.96 kg
Package dimensions (LxWxH): 514 x 293 x 470 mm
Gross weight:7.24 kg
Package contents:
Pop Mini Air case, Accessory bag, User manual
EAN:
RGB Black TG Clear: 7340172703600
RGB White TG Clear: 7340172703228
UPC:
RGB Black TG Clear: 843276103606
RGB White TG Clear: 843276103224
JAN:
RGB Black TG Clear: 4537694289214
RGB White TG Clear: 4537694286343
Product code:
RGB Black TG Clear: FD-C-POR1M-06
RGB White TG Clear: FD-C-POR1M-01
Warranty: 2 Years
Fractal Design is a Swedish manufacturer known primarily for their award-winning case designs like the now classic Define R2. Since 2008, they have been building cases with a focus on design and function rather than flair and Fanfare making Fractal a go to for enthusiasts in over 45 countries. Today Fractal makes a variety of components including power supplies, water colling accessories and more.