In Win S-Frame Open Air Case Review
Author:

Dennis Garcia
Published:
Thursday, July 03, 2014

Case Construction
As was mentioned earlier the In Win S-Frame is an open air chassis design that is constructed from a single piece of plate aluminum. There are a total of 15 bends to make this case which in terms of total folds is considerably less than any other case in existence.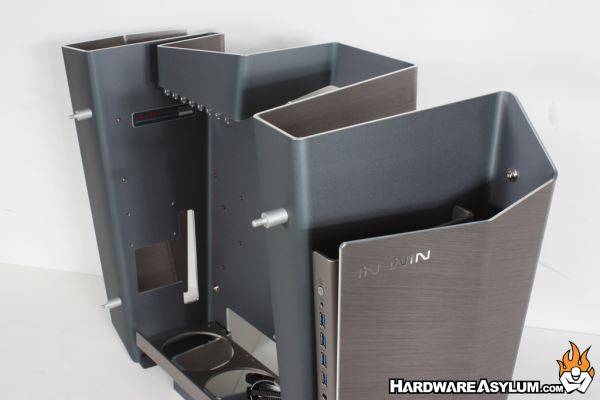 Overall styling is either you love it or you hate it. Most will agree that the S-Frame looks amazing and pictures really do it no justice. We actually like this case because it is different, it looks good, and is something everyone will want to talk about. Of course to play both sides of the fence you may hate this case purely from total cost or from it being impractical. Much like an open air test bench there is certain things you can't do with an open air design. Also If you have pets (the four or two legged kind) you may run into issues keeping your components safe. Plus, there is an inherent issue with cable management and how you hide cables when everything is within view.
Speaking of everything in view, the structure of the S-Frame is a little unique and does a good job at hiding many of the major components but doesn't allow you to mount them very well. A good example is the drive trays that have a nice spot near the motherboard tray. The SATA cables for these drives need to travel a long distance to meet the motherboard. Another example is the location of the power supply. Traditionally the PSU is located in the back of the case and with the S-Frame it sits vertically in a removable cage.
This means the power cables face down and go into the case while the power cord attaches from the top. Considering both options there is clearly a front and back to the S-Frame leaving you with few opportunities to mod and forcing creative ways to hide the PSU and cables.
We rarely drive into cable management in our case reviews since the previsions are usually straight forward, find a grommet and pass the cable behind the motherboard tray. With the S-Frame there is a large channel cut into the motherboard tray for cable management but leaves many the cables exposed. There is a variety of ways to handle this from creative use of cable ties to simply wrapping them in something to make them look nice and neat.
In Win has included a few accessories to help with cable management including three braded cable extensions. The first is for your SATA drives and will chain the power together into a single clean cable. Next is a four pack of SATA cables that are also braded to match the power. Lastly we have two 8-pin CPU power extensions which will come in handy since there is no cable grommet near that end of the motherboard that isn't already a hard drive tray.
Of course you get a bunch of mounting hardware including the required screws and some cable ties to get you started.