In Win S-Frame Open Air Case Review
Author:

Dennis Garcia
Published:
Thursday, July 03, 2014

Introduction
Traditional computer cases are elaborate modifications of a simple metal box. There are holes for expansion cards, places to put hard drives and design generally subscribes to a "form follows function" mentality with the cheapest option making the CEO proud. Does that mean all cases have to follow the same formula? If so, when does a chassis move beyond a computer case and transform into something new?
The famous architect Mies often stated that "Less is More" which became a defining phrase in modern architecture and also helped to describe an art movement called minimalism. In terms of architecture the "Less is More" concept was used to describe the removal of ornamentations from buildings and allow structure to define shapes and basically strip everything down to its most basic form. Of course everyone interpreted the minimalism movement differently and while wome took things to the extreme with solid blocks of color others worked in tasteful harmony.
In this review we will be looking at a new limited edition chassis from In-Win called the S-Frame. The S-Frame builds on a growing trend with In-Win who started releasing limited edition chassis designs each year starting with the popular X-Frame during CES 2012, H-Frame, D-Frame and now S-Frame in 2014.
The S-Frame is an open air chassis that creates a unique juxtaposition between metal and glass with the desire to embody a perfectly functional computer case. During the opening paragraph I described two things that are a computer case. First is what a case does and that is create a box to hold your computer components. These boxes are often defined by their ornaments and follow a set of rules dictated by the market that intends to buy them. The second is what a case can be if you remove the fancy facade and ignore market conventions.
S-Frame is the second of these and while it may be described as "minimalist" there is very little in this case that is understated.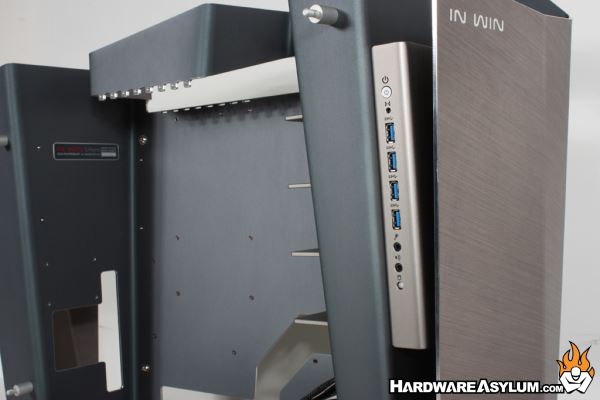 Specifications
Material 4mm Aluminum / Tempered Glass
External Drive Bay 3.5" or 2.5" x 4
M/B Form Factor ATX / Micro-ATX
Power Supply ATX12V, PSII and EPS Up to 220mm
I/O Port USB3.0 x 4, HD Audio
I/O Expansion Slot PCI-E Slot x 8
- Supports High-end Graphic Card (Length: up to 340mm, Height: up to 160mm) 380mm
Thermal Solution
- 120mm Bottom Fan x 3
- 360mm Liquid Cooling Radiator
- CPU heatsink up to 195mm Cooling System
Dimension (HxWxD) 560 x 313 x 755mm / 22" x 12.3" x 29.7"
Net Weight 17.41kg
Gross Weight 23.2kg