In Win S-Frame Open Air Case Review
Author:

Dennis Garcia
Published:
Thursday, July 03, 2014

Case Layout and Features
As you may have noticed the S-Frame is not a small case and with a length of 29.7 inches that is bigger than the Cosmos II and is a little shorter than a Raven 4. The question is what goes into making the In-Win S-Frame?
The case starts out as a piece of 4mm plate aluminum that is then laser cut into the exact shape needed. These cuts must compensate for shrinkage due to bends which is more than just a little math. The metal then goes through an elaborate anodizing process that can treat every edge differently giving you black panels and red edges or blue panels with orange edges etc. The sample in this review features a light grey front panel and darker grey reverse that can enhance depth and help hide things that shouldn't be seen.
To build the S-Frame workers take the 6 foot long piece of anodized aluminum and subject it to no more than 15 bends in specially designed presses. The end result is a structurally sound computer frame that only needs a few additional parts to be complete.
The aluminum frame is finished off with two pieces of shaded tempered glass and a few additional components to hold front panel accessories, drives, fans and power supply.
You will notice that each side of the case is a different color. The version that we have is a special edition in blue/grey with polished edges. Production versions of this case will be red/black in color like what you can find on the In-Win website. During Computex we saw quite a few variations of the S-Frame that were designed to test the different color combinations and while some of these looked really good they never made it to production.
Considering that the S-Frame is currently limited to 500 cases it makes sense as to why they limited the color variations.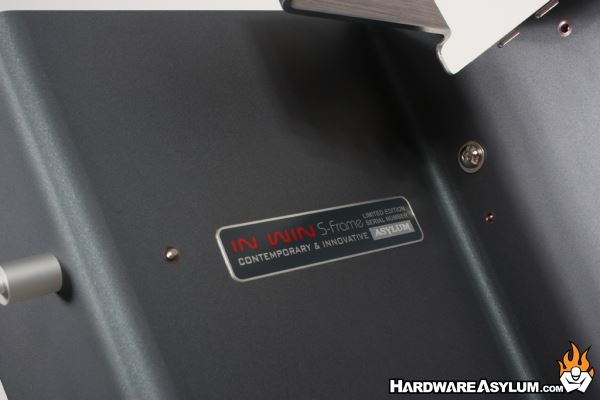 Red and Black does look really good and goes with a good majority of high-end motherboards currently on the market. The frame is black while the edges are anodized a bright red along with all of the removable parts like the hard drive trays, fan mounting plate and power supply rack.