In Win S-Frame Open Air Case Review
Author:

Dennis Garcia
Published:
Thursday, July 03, 2014

Installation and Conclusion
The In Win S-Frame supports ATX and smaller motherboards but will fit some of the extended sizes like SSI-EEB and SSI-CEB. To help illustrate this we have placed the large, and yet, not huge Gigabyte X79 UD7 OC into the S-Frame to give a semblance of size. We also matched that motherboard with the large EVGA GTX 780 Ti Classified and as the photos show there is still some room to grow.
We did notice that the rail used to lock the expansion cards is a little short and required a little pressure to get it screwed down. This, of course, caused the motherboard to bend but, nothing too serious. Shorter motherboard standoffs will solve that issue quite easily.
Large heatsinks are not a problem with the S-Frame which can handle the large Noctua NH-D15 and one of our AIO coolers from Thermaltake. Installing a DIY water loop might be a challenge but can be done if you didn't mind mounting some gear to the side panels.
We did notice a issue when it comes to access. As the photo shows the top bend used to secure the expansion cards passes right over the Ethernet and USB ports. Keep in mind there is about two inches of space between the motherboard and this panel but still requires some bending to make it fit and not every motherboard will share the same I/O configuration.
Conclusion
When it comes to pushing the limits of design you can take the easy way out and work within pre-defined limits or you can break with conventions and dare to create something that nobody has seen before. Of course there are risks involved and when you are dealing with computer cases the risks are usually based on market acceptance and manufacturing costs.
The S-Frame from In Win is clearly a design that breaks conventions and pushes the question of what is a computer case? Does it have to be a square box? Or can it take any shape provided that it can hold a computer and looks good doing it. S-Frame is an open air case design that is constructed from a single piece of 4mm thick aluminum plate and folded 15 times to create the desired shape. The motherboard position is rotated so that the I/O panel is facing up and cooling is handled by natural convection with the help of three 120mm fans that can be located at the bottom. The design may not cool like a Raven but sure tries to look like one.
Good Things
Solid Construction
Tempered Glass Side Panels
Thick Aluminum Frame
Special Anodizing
Open Air Design
USB 3.0 Support
Unique Modern Style
Bad Things
Heavy chassis design
Limited drive options
Open air design can collect dust and pets
No external drive support
Need for creative cable management
Hardware Asylum Rating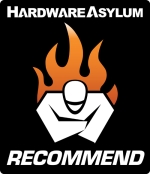 In Win S-Frame Open Air Case Review
Recommend
https://www.hardwareasylum.com