Lian Li PC6 Case Review
Author:

Darren McCain
Published:
Monday, November 07, 2011

Introduction
Lian Li has long been a trend setter in the all-Aluminum chassis field. Known for their industry leading quality, any Lian Li case will have a fit and finish that is a true delight to work with. And, while some of their designs like the PC-U6 or the Armorsuit PC-P80R get the lion's share of the attention, the more standard designs like the PC-6 continue to be copied by every one-off case company around.

There is just something about an all-Aluminum case that puts a smile on my face and the PC-6 is no exception. Weighing in at 5kg (~11.5 pounds soaking wet) the PC-6 looks and feels like a top quality case right out of the box.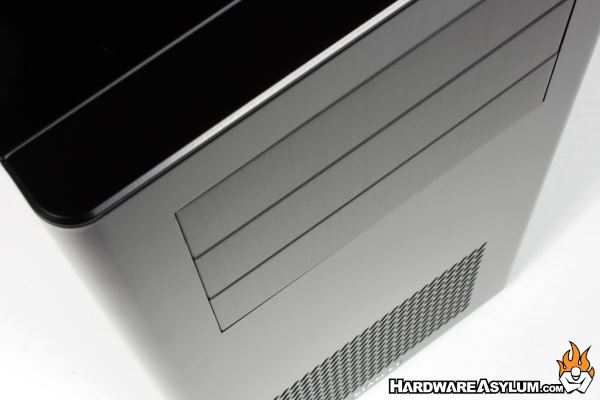 The PC-6 is a mid-tower design that incorporates all of the core elements you would expect into a beautiful black brushed aluminum chassis. While the PC-6 is more expensive than its steel and plastic peers, the weight reduction and thermal advantages add additional value that can easily justify the stretch. Many of my enthusiast friends believe once you build in a Lian Li case you will never need to buy another.
The black finish is a nice contrast to the natural aluminum interior and is the only color currently offered. This finish is more durable in my experience than the typical paint scheme found on most cases and looks even better in person. Unlike a polished black finish, the PC-6 is pretty forgiving on fingerprints too.
Specifications:
Model: PC-6
Case Type: Mid tower chassis
Dimensions: (W) 210mm x (H) 475mm x (D) 498mm
Front bezel Material: Aluminum
Color: Black
Side Panel: Aluminum
Body Material: Aluminum
Net Weight: 5KG
5.25" drive bay (External): 3
3.5" drive bay (External): None
HDD bay: 3.5" HDD x 3 / 2.5" HDD x 2
Expansion Slot: 8
Motherboard: ATX / Micro-ATX / Mini-ITX
System Fan (Front): 140mm Fan x 1
System Fan (Top): None
System Fan (Rear): 120mm Fan x 1
I/O Ports: USB 3.0 x 1 / USB 2.0 x 1 / HD Audio

Maximum Compatibility:
-VGA Card length: 4400mm
-PSU length: 300mm
-CPU cooler height: 160mm