be quiet! Pure Base 500DX Case Review
Author:

Dennis Garcia
Published:
Monday, May 18, 2020

Introduction
Throughout the development of the computer there have been designers whose job was to make their cases look better. Some designers would highlight the fact that the front of the case was the business end and did a great job at showing folks that your computer works for a living. Other designers have attempted to hide the computer by making it look like everything else in your room and disappear into the environment. This modern design approach also helped to make the PC quieter and would often stifle the fans if inadequate ventilation was provided.
One of the design principles behind the Pure Base 500 was to take a more straight forward approach to cooling. It still had some silent features such as acoustical damping material and the option to block off vents. However, it still looked like a silent case, stylish and yet, boring.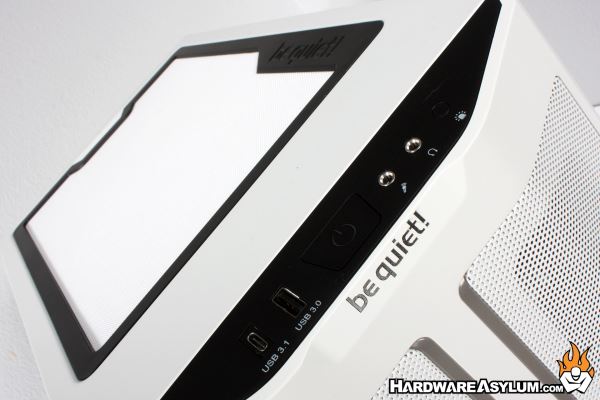 In this review we will be looking at the Pure Base 500DX from BeQuiet. While the previous design walked the line between a silent and performance the 500DX opens up by focusing on airflow and throws in some popular "gamer" options.
Features
High airflow intake front panel and top cover for maximum performance
Three Pure Wings 2 140mm fans guarantee high cooling performance and silent operation
ARGB LED at the front and inside the case
USB 3.1 Type C Gen. 2 for latest hardware
Water cooling ready for radiators of up to 360mm
Up to two SSDs can be installed prominently behind the window panel
Generous space for high-end graphics cards and large coolers
Side panel made of tempered glass
Three-year manufacturer's warranty
Specifications
Model: Pure Base 500DX | Window White
PSU form factor: ATX PS/2
Motherboard compatibility: ATX, M-ATX, Mini-ITX
Case size excl. stands (L x W x H), (mm): 450 x 231 x 443
Case size incl. stands (L x W x H), (mm): 450 x 231 x 463
Dimensions side panel window (L x W), (mm): 400 x 431.3
Color option: White
Weight (kg): 7.8
USB 3.0: 1
USB 3.1 Gen2 Type C: 1
HD Audio I/O: Mic + Audio
Expansion slots: 7
Fan mounting locations: 6
Note: Supports motherboards with backplates