be quiet! Pure Base 500DX Case Review
Author:

Dennis Garcia
Published:
Monday, May 18, 2020

Case Layout and Features
There are two major version of the Pure Base as a 600 and 500. The 600 is slightly larger with high installation flexibility and effective cooling performance while the 500DX (featured in this review) combines customizable and silence features with a sophisticated design. It is the ideal case for all who value compactness and highly functional features.
Both case designs come with a tempered glass side window option. The 600 comes in black with an option for an orange accent while the 500DX is available in 3 different colors, Black, White and Gray with no accent colors.
The case featured in this review is the Pure Base 500DX Window White. As was I mentioned before the 500DX is focused on airflow but once you remove the panels and plastic the chassis is the same across the different models.
Tempered glass occupies only a single side of the Pure Base 500DX with the back panel being a solid panel with no embossing. Fitment of the panels is extremely good with no panel sticking and very consistent gaps and seams all around.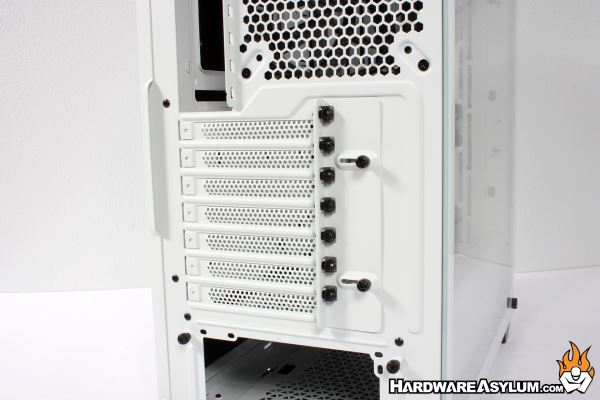 The case features seven expansion slots with the meshed slot covers. These slot covers match the rest of the case in color and the fitment is quite good.
I have several pet-peeves when it comes to case designs and none sit higher on my list than when a case has the expansion slot screws on the outside. From an economic standpoint doing this saves material, machine time and the case can be assembled faster however, it looks tacky and makes system assembly more difficult than it should be.
Front controls are as simple as they come. You will get two USB ports, one Type A and one Type C, a power button and two analog audio connections for headphones and mic. I'm not sure you need anything more.
The bottom of the case features a removable dust filter and is the only accessible dust specific filter in the entire case. You will find another large filter behind the front bezel which requires you to remove the bezel to access it.
Speaking of front bezel along with the ample venting you get an ARGB light strip that runs the vertical length. This light is enabled with contact points so you won't have to disconnect any cables when removing the front bezel, you know, to clean the filter that nobody will ever do.