be quiet! Pure Base 500 FX Case Review
Author:

Dennis Garcia
Published:
Sunday, July 31, 2022

Case Cooling Continued
With the Pure Base 500FX you get four 120mm Silent Wings ARGB fans located in the front and back of the case. A total of six 120mm fans can be installed with two additional fans at the top. If your fan choice is 140mm these can easily be replaced with 140mm Silent Wings ARGB fans or any fan of your choosing. However, the total supported will drop to five.
The Pure Base 500FX fully supports AIO watercooling and supports five different radiator sizes in three locations and ironically match the fan support. Sadly, there is little room for a DIY water loop, though with a careful selection of components, and a few mods, it could be done.
I find it interesting that the position of the HDD rack is such that a full length radiator and fan could be installed while keeping the rack in place. If you are looking to go with thicker radiator or a push/pull fan configuration the rack may need to be removed.
Two important features of the Pure Base 500FX are the inclusion of Silent Wings ARGB fans. These are a new fan from bequiet! that feature an ARGB light ring around the fan blades. The ARGB and PWM fan tails both plug into the included hub located on the backside of the motherboard tray. This hub can then be routed to your motherboard allowing for both the fans and ARGB lights to be synchronized with the rest of the system or any external controller of your choosing.
System Install
Internally the Pure Base 500FX is identical to the Pure Base 500DX and supports standard sized ATX motherboards, Micro ATX motherboards and Mini ITX motherboards. The only real restriction is the width of the PCB where wider motherboards will interfere with the channel used for cable routing.
I am including some photos from my Pure Base 500DX review to help illustrate along with an MSI Z390 Ace motherboard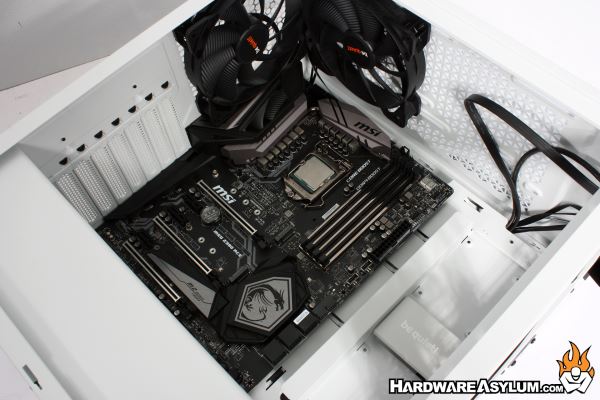 Clearance at the bottom of the motherboard is tight so you'll need to ensure only single slot cards are used. Cable access holes line up quite well allowing for front panel and USB cables to be hooked up. Another area to keep an eye on is near the exhaust fan, as many of you know motherboards are now coming with integrated I/O covers and with a 140mm fan installed you will be restricted on what types of motherboards will fit.
Lucky for use the Pure Base 500FX comes with 120mm fans from the factory.