be quiet! Pure Base 500 FX Case Review
Author:

Dennis Garcia
Published:
Sunday, July 31, 2022

Conclusion
In this review we looked at the Pure Base 500FX from be quiet!. This is a down market chassis designed for enthusiast builders looking for a cost-effective chassis that fits the "gaming" profile. Cost effective means different things in the computer world and to understand the context you need to look at the company as a whole.
be quiet is a premium hardware maker from Germany who focuses on products that make systems silent. While silent computers have never been a priority in the US that is a major deciding factor in Europe and other parts of the world. Companies like bequiet! will go to great lengths to achieve that goal and are not about to release a shoddy product, even if it is designed to be inexpensive.
The Pure Base 500FX is a case designed to fill the basic needs of a system builder while addressing the current demands of the modern PC market. As a result, this chassis comes with ample SSD mounting locations allowing the builder to decide if they want their drives hidden or exposed. Tempered glass side panels are hot right now and the Pure Base 500FX is only available with tempered glass to help show off the Silent Wings ARGB fans.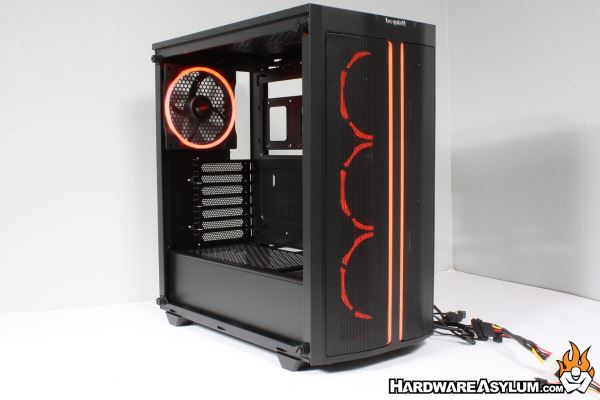 Airflow is always a concern with cases and while the Pure Base 500 comes with sound absorption material it is also fully open for direct airflow. The front bezel features a metal mesh to help feed the intake fans.
The 500FX comes with four 120mm Silent Wings ARGB fans with the option to install two more if you so desire. The Silent Wings ARGB fans are a new product from bequiet that not only feature the silent operation from the previous generation but also a nice ARGB light ring around the fan blades.
The final gamer feature is the inclusion of a ARGB (Addressable RGB) light strip in the front bezel which can be hooked into any ARGB controller of your choosing. The added lighting is a nice touch especially for users looking to integrated more lighting options into their builds.
To help tie everything together the 500FX comes with an ARGB Light and PWM Fan control hub allowing you the option to fully sync the includes lights with your motherboard or any external controller of your choice.
As a casemodder I always look at how a case is constructed. I am happy to say that the construction quality of the Pure Base 500FX is extremely good with tight joints, minimal gaps in the panel fitment. During this review none of the components ever bound up or caused me any issue.
For those of you looking to watercool I would recommend sticking with AIO coolers with this case unless you are using a smaller pump res combo due to limited space inside the chassis.
The only item I took issue with is with the expansion slots and how the mounting screws are located on the outside of the case instead of being placed inside. This is a typical cost saving feature that many people overlook and, I am not a fan. Not only does it making system assembly a little more difficult but make me feel like a company is cutting corners just to cut corners. Considering the overall build quality this just seems odd.
Good Things
Tempered Glass Option
Great Paint Finish
ARGB and PWM Hub
Silent Wings ARGB Fans
Plenty of Cooling Options
Full Radiator Support
Vented Basement Panel
Bad Things
Expansion slot screws outside the case
Not big enough for a full DIY loop