be quiet! Pure Base 500 FX Case Review
Author:

Dennis Garcia
Published:
Sunday, July 31, 2022

Case Layout and Features
The case featured in this review is the Pure Base 500FX in Black. The 500FX is only available with a glass side panel and, like the 500DX, features a high air flow design and locations for up to six (6) 120mm fans.
You will find tempered glass on a single side of the Pure Base 500FX with the back panel being a solid panel with no embossing. Fitment of the panels is extremely good with no panel sticking and very consistent gaps and seams all around. The glass panel is held in place with the typical knurled nuts in each of the four corners.
The case features a total of seven expansion slots with the meshed slot covers. These slot covers match the rest of the case in color and the fitment is quite good.
I have several pet-peeves when it comes to case designs and the one at the top of my list is featured here with the expansion slots. You see there are two ways to secure expansion cards and the major difference is the location of the screws that hold the cards in place. On the Pure Base 500FX you will find the screws on the outside of the chassis instead of having them contained inside the case.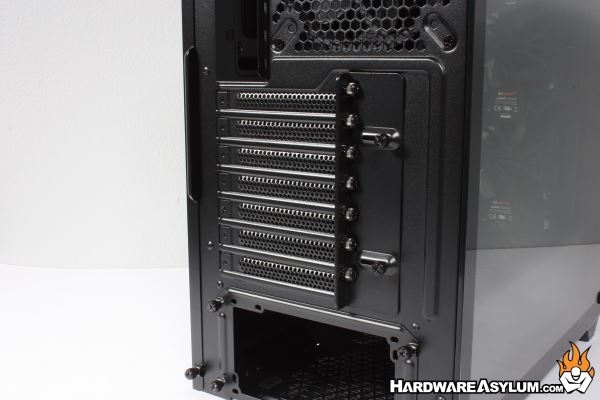 From a functionally standpoint these complicate the install procedure and require users to install their cards and then slide the cover plate over and then try to line up your card with the cover plate with the chassis so the screw can be installed.
From an economic standpoint this design is super smart, it saves material, saves machine time, saves on labor and allows the chassis to be an inch shorter. But, in my opinion it looks tacky and is one of the many ways case companies are trying to increase profit margins.
Front controls are as simple as they come. You will get two USB ports, one Type A and one Type C, a power button and two analog audio connections for headphones and mic. I'm not sure you need anything more.
The bottom of the case features a removable dust filter and is the only accessible dust specific filter in the entire case. You will find another large filter behind the front bezel which requires you to remove the bezel to access it.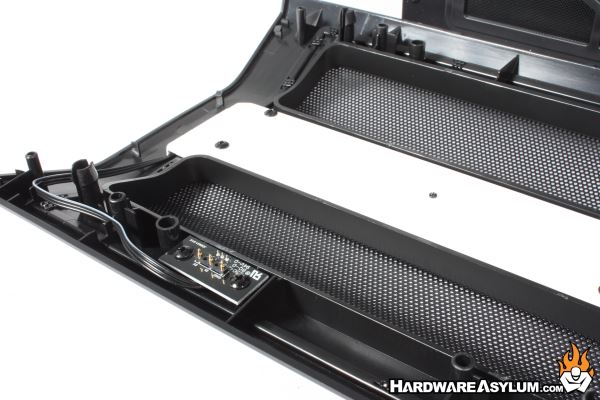 Speaking of front bezel along with the ample venting you get an ARGB light strip that runs the vertical length. This light is enabled with contact points so you won't have to disconnect any cables when removing the front bezel, you know, to clean the filter that nobody ever does.