SilverStone Fara H1M Pro Case Review
Author:

Darren McCain
Published:
Wednesday, September 8, 2021

Case ARGB Lighting and Conclusion
Of course no case is complete without RGB these days. The Fara H1M Pro is no exception with support for Addressable RGB (ARGB) right out of the box.
Silverstone has provided a dedicated ARGB controller with support for the included fans, via an included splitter. This standalone controller can be used in systems where your motherboard is lacking an onboard ARGB controller or when you want to experiment with different lighting profiles. The SilverStone logo acts as a button to control ARGB lighting effects and will switch between the included patterns and profiles.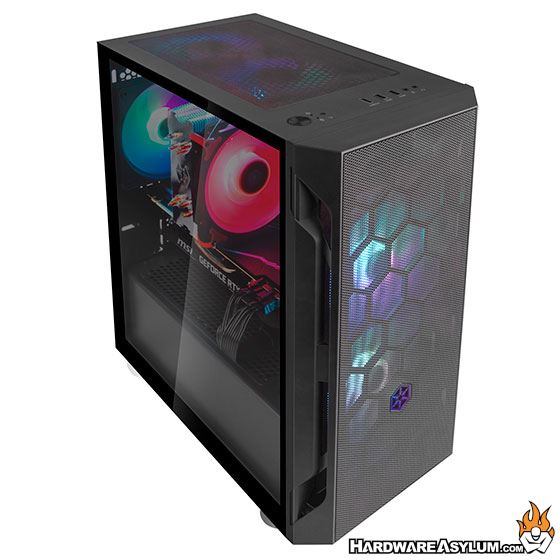 There is something satisfying about a good clean ARGB build as a backdrop to a stylish tempered glass enclosure. The large glass window and the white ARGB fans can really accent your build with a beautiful glow that stands out from the competition.
Over the years I have found myself resisting smaller builds due to the lack of any real enthusiast cases designed for the smaller motherboards. I simply felt that no case was good enough and offered too many limitations. With the H1M PRO I have started to change my mind and find that everything I want from a mini-ATX build is available without blowing the budget. There are sacrifices of course, it is a mini, but you get everything you need for all but, the most demanding builds.
The SilverStone H1M PRO case does so many things right that it is easy to recommend. From the simple, intuitive layout to the beautiful ARGB lighting the H1M PRO sets a pretty high bar for a mini-ATX case.
Good Things
ARGB controller included
Fantastic airflow
Solid build quality
Easy to build in
Bad Things
Limited Fan and radiator support
Simple ARGB controller
No USB C port