SilverStone Fara H1M Pro Case Review
Author:

Darren McCain
Published:
Wednesday, September 8, 2021

Introduction
These days computers are getting smaller and smaller but finding a good case for a Mini or micro build is still a challenge. Fortunately companies like SilverStone are there to meet the need. The Silverstone Fara H1M Pro hopes to show that a tiny build doesn't mean you need to have tiny expectations!
Can a Micro case provide all of the features enthusiasts expect? Let's take a closer look!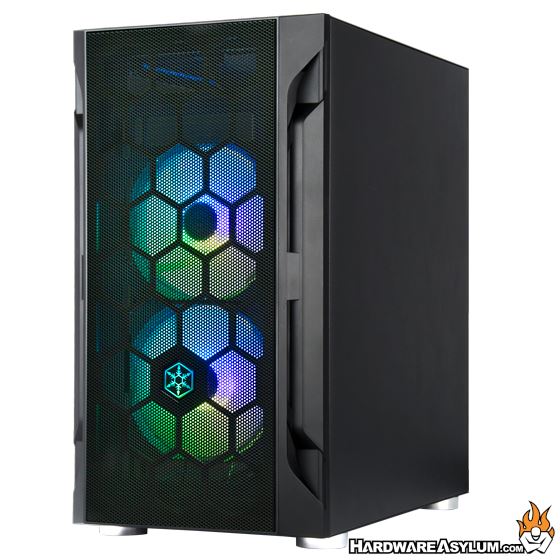 The Fara H1M Pro is the latest in the Fara (FA) series and one of two micro-ATX designs in the lineup. The H1M design comes in two variants, a standard H1M and the PRO model featured in this review and indicates the case comes with an 4-port ARGB fan hub to power the pre-installed ARGB fans.
Currently the H1M Pro comes in only a black finish with a large tempered glass side panel. However the non-PRO version does ship in white so who knows what the future holds?
Features
Equipped with three 120mm ARGB fans and ARGB controller
Steel honeycomb mesh design provides superior air intake volume to cool internal components
Precisely designed interior provides sufficient space for most graphics card and multiple cooling options
Removable drive cage allows flexibility in PSU size and cable management space
I/O ports includes 1 x USB 3.0, 2 x USB 2.0, 1 x Audio and 1 x MIC.
Removable filters at the front and top makes cleaning out dust a breeze
Specifications
Model No: SST-FAH1MB-PRO
Material: Steel mesh, plastic front panel, steel body, tempered glass
Motherboard: Micro-ATX, Mini-DTX, Mini-ITX
Drive bay
External: N/A
Internal: 3.5" x 2 (compatible with 2.5" x 1) / 2.5" x 2
Cooling system
Front: 120mm x 2 / 140mm x 2 (120mm x 2 ARGB fans included)
Rear: 120mm x 1 (120mm x 1 ARGB fan included)
Top: 120mm x 2
Internal: 120mm x 2
Radiator support:
Front: 120mm / 240mm
Rear: 120mm
Expansion slot: 4
Front I/O ports: USB 3.0 x 1 / USB 2.0 x 2 / Audio x 1 / MIC x 1
Power supply: Standard PS2(ATX)
Limitation of expansion card
Length: 320mm without front fan installed
Width: 160mm
Limitation of CPU cooler: 160mm
Limitation of PSU:
160mm with 3.5" cage installed
250mm without 3.5" cage installed
Net weight: 4.6 kg
Dimensions
210mm (W) x 392mm (H) x 366mm (D), 30.13 liters
8.27" (W) x 15.43" (H) x 14.41" (D), 30.13 liters
Founded in 2003, SilverStone has been making award winning cases and power supplies since the beginning. Today SilverStone products can be seen all over the world, not just for computer users but also for home entertainment use. Their unique chassis designs and innovative design decisions have long made SilverStone products some of our most recommended from Hardware Asylum.