SilverStone Redline RL05 Case Review
Author:

Dennis Garcia
Published:
Friday, June 17, 2016

Introduction
Building a computer can be a complicated process of picking and assembling parts and while it may seem complicated it honestly is easier than it looks. The real challenge isn't putting the parts together but rather picking the right parts and still remaining within your budget. In my reviews I rarely consider cost or budgets as that should never be a deciding factor but there are times when a $300USD chassis is just too much.
In this review I'll be looking at a new case from SilverStone called the RL05. This case is part of the Redline Series and designed to be a competitively priced chassis for the mainstream enthusaist market and includes many features you wouldn't normally see in that segment.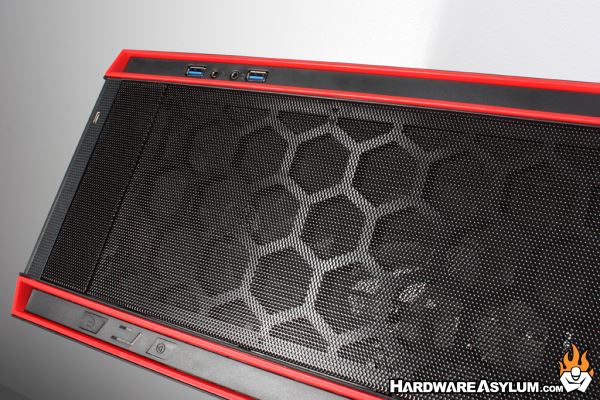 SilverStone showed this case at CES 2016 and was very impressed. From the outset I was looking at this case from a modding perspective and noticed a good many details that could easily be personalized from the metal mesh covering the hexagonal grid to the separation of space between the motherboard and power supply. Many of these things you wouldn't find on a case costing less than $70USD and here it is.
Specifications
Model No. SST-RL05BR-W(black with red trim + window) / SST-RL05BB-W(black with black trim + window)
Material Plastic panel, steel body
Motherboard ATX (up to 12" x 10.2", Micro-ATX
Drive Bay
External 5.25" x 1
Internal 2.5" or 3.5" HDD x 2, 2.5" x 2
Cooling System
Front 120/140mm fan slot x 2 (includes 140mm LED fan x 2), 80mm slot x 1
Rear 120mm fan slot x 1
Top 120/140mm fan slot x 2
Expansion Slot 7
Front I/O Port USB 3.0 Type-A x 2, Type-C x 1 / Audio x 1 / MIC x 1
Power Supply Standard PS2(ATX)
Expansion Card Support graphics card up to 14.7", width restriction - 6.4"
Limitation of CPU cooler 165mm
Limitation of PSU 220mm
Net Weight 5.9kg
Dimension 210mm (W) x 465mm (H) x 450mm (D), 44.9 Liters
The Redline RL05 has several things going for it. For starters it is an inexpensive case making it attractive to first time system builders and system integrators. The case is also appears to be a good platform for some basic computer mods but will be somewhat limited when it comes to watercooling.