SilverStone Redline RL05 Case Review
Author:

Dennis Garcia
Published:
Friday, June 17, 2016

Case Interior and Cooling
At the bottom of the case you will find an internal 3.5" hard drive rack supporting a total of two drives on plastic trays. Average consumers may only install a drive once or twice during the lifetime of their PC however system integrators perform that task 100's of times a day. To make the process faster the trays will flex open allowing tool free installation.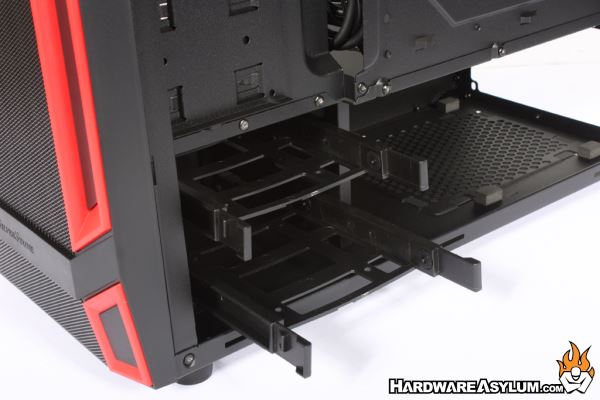 Cooling the RL05 is handled by two LED 140mm fans located at the front of the case. These fans will help induce a positive air pressure situation which improves cooling and helps reduce how much dust settles inside the chassis.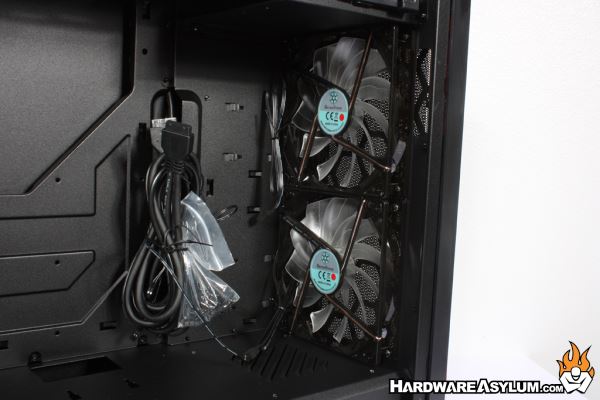 Additional fans can be installed with a single 120mm fan at the back and two 120/140mm fans in the top.
SilverStone states that the top fan location will accept three sizes of radiator including the common 120mm and 140mm units found on most AIO coolers and a larger 280 (dual 140mm). The 240 has been excluded due to how the fan holes are drilled. That isn't to say you can't drill your own holes but, from the factory that is what you get.