SilverStone Redline RL05 Case Review
Author:

Dennis Garcia
Published:
Friday, June 17, 2016

Case Layout and Features
The Redline Series is being marketed as a "value enthusiast tower" which can be interpreted as a case designed for the enthusiast market with enthusiast features but at a fraction of the cost. As we know lowering costs has an impact on quality. In this situation many of the panels are not embossed like you would expect and the metal used is a lighter gauge. It does rattle when smacked but nothing out of the ordinary.
One of the main features of the RL05 is the extremely large side window and dual color front bezel. The case featured in this review is the red version with a black option available. The plastic accents are the only difference between the two leaving future color options a possibility.
Turning the case around you will notice a standard case layout with a single 120mm fan location near the I/O and seven expansion slots matching a typical ATX motherboard. At the bottom of the case is the power supply.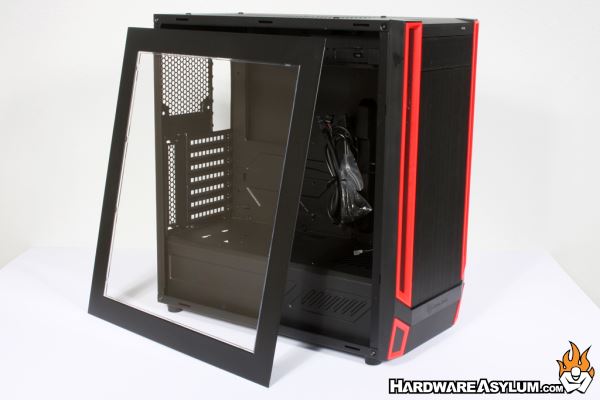 Normally the side windows in a computer case are cut to only show areas of interest inside the case. The window on the RL05 is extremely large allowing you to see everything from the front mounted drive cages, motherboard and expansion cards and… "Not" the power supply?
The RL05 comes with a single external 5.25" drive bay and full length PSU cover. These covers have become extremely popular in recent years as they tend to separate PSU heat from the rest of the system and completely hide the PSU cables for even better cable management.
Next to the motherboard tray is a large slot for cable access. Given that this slot comes in at an angle there is no need for a rubber grommet to hide where the cables are going.