SilverStone SETA H1 Airflow Case Review
Author:

Dennis Garcia
Published:
Friday, May 20, 2022

Introduction
Several years ago, from the time of this article, I got the opportunity to review the SETA-A1 from SilverStone. I had seen that case on a number of occasions starting with CES 2020 and at first didn't pay much attention to it. The case featured a solid aluminum panel that was attached to the standard front bezel. Behind that were two extremely large 200mm cooling fans totally hidden from view. While the chassis had a very typical design the unique feature was how the cooling was handled along with the unique aluminum colors on the front panel.
In this review we will be looking at the new SETA H1 from SilverStone. The SETA H1 is a sister case to the SETA Q1 where the Q1 is designed for silent operation and features a solid front bezel and sound proofing on the inside. For the SETA H1 the focus is different and favors a higher form of airflow using dual 160mm fans breathing through a fully meshed front bezel and addressable RGB (ARGB) lighting.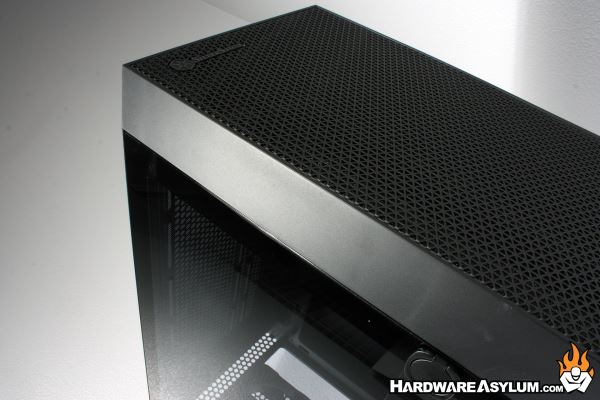 The chassis is a standard mid-tower supporting many of the popular mid tower features and comes with a total of three fans along with a tempered glass side panel. We will go over these features and more later in this review.
Features
Perforated full mesh front panel with embedded ARGB lighting strip achieving vibrant aesthetics with completely unobstructed airflow performance
Ample interior space with highly versatile layout, setting no boundaries for creativity and inventiveness
Extensive air and water cooling support
Supports up to SSI-EEB motherboards
I/O ports include USB Type-C x 1, USB 3.0 x 2 and combo audio x 1
Superior dust prevention with removable dust filters on the top and bottom
Specifications
Model No. SST-SEH1B-G
Material Steel, plastic, tempered glass
Motherboard SSI-EEB, SSI-CEB, E-ATX, ATX, Micro-ATX, Mini-ITX

Drive bay
External N/A
Internal 3.5" x 2 / 2.5" x 2
Cooling system
Front 120mm x 3 / 140mm x 3 / 160mm x 2 / (160mm black fan x 2 included*)
Rear 120mm x 1 / 140mm x 1 / (140mm black fan x 1 included)
Side N/A
Top 120mm x 3 / 140mm x 2
Bottom N/A
Internal N/A
Radiator support
Front 120mm / 140mm / 240mm / 280mm / 360mm
Rear 120mm / 140mm**
Side --
Top 120mm / 140mm / 240mm / 280mm / 360mm
Bottom N/A
Internal --
Expansion slot 7 + 2
Front I/O port USB Type-C x 1 / USB 3.0 x 2 / Combo audio x 1
Power supply Standard PS2(ATX)

Limitation of VGA card
Length: 394mm (with front fans installed)
Width: 188mm
Limitation of CPU cooler 182mm
Limitation of PSU 250mm
Net weight 9.67 kg

Dimension
232mm (W) x 494mm (H) x 480mm (D), 55.01 liters
9.13" (W) x 19.45" (H) x 18.9" (D), 55.01 liters