SilverStone SETA H1 Airflow Case Review
Author:

Dennis Garcia
Published:
Friday, May 20, 2022

Case Interior and Storage
Unlike many of the other computer cases with tempered glass side panels the glass on the SETA H1 is positioned on a hinge and is held in place with a series of rather strong magnets located along the front.
To open the side panel you pop away a little ring and use that to pull the door away from the chassis. I have seen plenty of cases use the magnet trick to hold glass in place but, never have a seen such a creative method for opening the door. The pull ring can also be hidden when not in use keeping with the clean look of the chassis.
With the glass and rear panel removed we can get a good look inside the SETA H1. Behind the motherboard tray you'll find the normal compliment of factory wiring for the front panel controls, fans and RGB lights.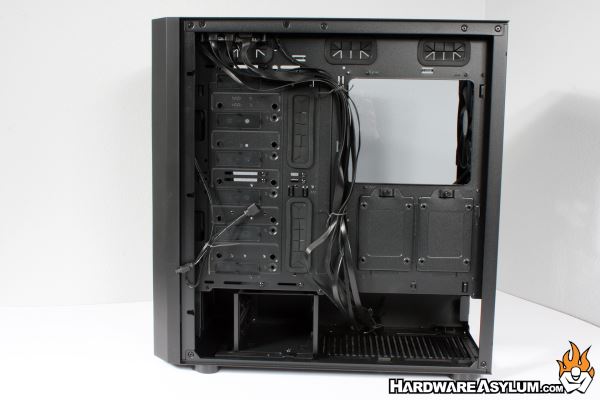 At the bottom of the case is the area we typically call "the basement" and is where the PSU is installed along with a location for the internal 3.5" hard drives and room to hide away excess power cables. The motherboard tray features a rather large opening for heatsink installation and below that you'll find two trays for 2.5" SSD drives.
For those of you lucky enough to pick up an RTX 30 Series graphics card you will be happy to know that SilverStone has included two VGA support brackets to help support the extra-large graphics cards. These install to the chassis and can be positioned to fit your particular hardware configuration.
Flipping the case around you'll find two curious looking panels to the right of the motherboard tray. These are called "Multi-Function Brackets" and can be moved slightly to the right and left to accommodate larger motherboards. They also seem to hide cables passing through the cable grommets
Of course, if your particular motherboard requires more space these covers can be removed completely. Doing so will not only expose more motherboard mounting posts but also a variety of other mounting holes, access panels and the slots needed to install the VGA support brackets.