Silverstone Sugo SG12 Case Review
Author:

Dennis Garcia
Published:
Wednesday, August 26, 2015

Case Layout and Features
The Sugo SG12 is a basic rectangle measuring 10.5" wide x 8.25" tall and 16" deep. Silverstone calls this a shoebox proportion that is not only pleasing to the eye but large enough to support all of the required hardware.
Across the front of the case you will see the power and reset buttons in the lower left that feature decorative edges that stand out well against the anodized aluminum front bezel. Along the lower right you will find two USB 3.0 connections and two analog jacks for mic and headphone. A single external 5.25" drive bay can be found at the top right of the case and is expertly hidden with a brushed aluminum cover plate.
In the middle you will find the integrated carrying handle in all of its blue anodized glory. The Silverstone logo is printed on the handle and is quite comfortable to hold.
Turning the case around we can get a sense of the internal layout of the SG12. The case supports Micro ATX and Mini ITX motherboards and comes with a maximum of four expansion slots. These are the external style that requires an additional cover to hide the screws. This style does help keep the overall size of the case down but makes swpp9ing an expansion card a little more time consuming.
You will notice that the power supply is located directly above the I/O connections meaning that you will have a limit to how large your heatsink can be. Yes, it seems hard to believe but tower style coolers are out but any cooler less than 82mm tall will fit no problem. (think HTPC or 2U server)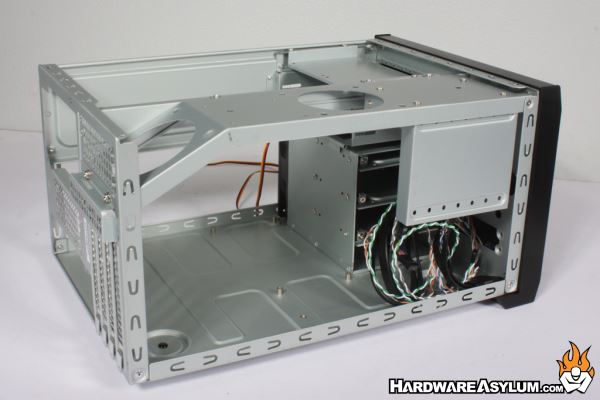 Three screws hold the top cover in place exposing the juicy insides. Along the video card side you will find a metal top cover with positions for two 80mm cooling fans. These will ensure air is circulating around your video cards and gives you some interesting modding possibilities with lighted fans.
Removing the top cover allows you room to install expansion cards but also exposes a very compact SSD drive rack that will hold seven 2.5" drives. This rack is also removable to allow larger video cards to be installed.