Silverstone Sugo SG12 Case Review
Author:

Dennis Garcia
Published:
Wednesday, August 26, 2015

Conclusion
One of the biggest hurdles when building a small form factor machine is the case. For far too long enthusiasts have avoided building Micro and Mini systems due to the lack luster case selection that either forced us to use toaster style cases or revert to a larger desktop case. The end result was a system that was larger than it needed to be or often contained mismatched hardware. The Silverstone Sugo SG12 is very unique in that it supports a vital segment in the PC building world allowing builders to assemble a SFF case and still use hardware normally reserved for a Mid or Full tower chassis.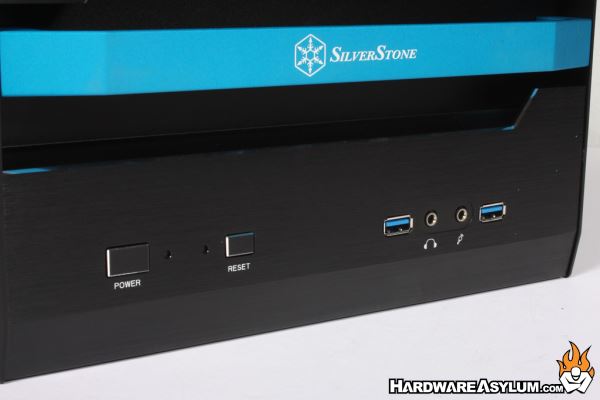 The Sugo SG12 is a "shoebox" style chassis that is longer than a cube but taller than a traditional desktop making it a perfect SFF (Small Form Factor) replacement for a normal Mid Tower that might accompany a college student back to school. Across the front of the case you will find a thick aluminum carrying handle that can be viewed as a convenient transport method or target of dorm room theft. Either way the handle is quite stylish and does help break up the front panel design.
Inside the Sugo SG12 you will find support for a total of twelve storage drives mixed between SSD and traditional HDD. While we suspect most users will not need this many drive locations the option does open the opportunity for a network based media server or someone with a RAID fetish looking to get more power.
If excessive storage isn't your thing the SG12 does support video cards up to 14.5" inches long and has enough expansion slots support SLI or Crossfire. Above the expansion slots you will find placements for two 80mm fans in addition to the included 120mm fan on the hard drive rack.
Sadly cooling will be limited to low profile heatsinks but with some creative modding you could install a AIO or DIY watercooling setup by using the 120mm fan location and removing the 3.5" drive rack. There are no cable management options in the SG12 making it imperative that you use a PSU with short cables or grab one of the shortened sets from Silverstone.
Good Things
Small Form Factor Case
Video Card Support up to 14.5 inches
Single External 5.25 inch Drive Bay
Support for Twelve SSDs
Carrying Handle
Crossflow Cooling
Bad Things
No cable management
Limited cooling options
No fan filters