SilverStone Sugo 14 Mini ITX Case Review
Author:

Dennis Garcia
Published:
Monday, February 1, 2021

Conclusion
The SilverStone SUGO 14 is a very nice case and can support many full-sized PC components which can help when planning out your builds. As with many SFF cases there are a few limitations that should be noted.
For the PSU it is vertically mounted meaning that there is a length limit. You'll want to use standard PS2 ATX power supplies that are 150mm or less in length. Any longer and you won't be able to run any cables. Of course, this case also supports SFX PSUs if you have the adaptor bracket which will give you plenty of room for running cables.
While, I am not one to diss on case cooling I know it is a hot topic in the world. (well, always has been but, the Internet forgets easy). Cooling in this case is dependent on a single exhaust fan. You can install more but since they are not directly connected to the exterior panels the amount of "cool" air over "recycled" air from inside the case is reduced considerably.
This brings me to my first set of mods. Personally, I like to know that there is a flow pattern inside a case and to ensure that air is getting moved around you need to ensure that when air is forced into a case it doesn't immediately exit. For instance, if you install a 240mm AIO into the SUGO 14 it might be a good idea to install a thin foam gasket between the radiator/fans and the side panel. This will ensure that air is pulled in from the outside. Then to take things one step further block off the rest of the venting holes on that panel (outside of the gasket) to prevent the recycled air from getting sucked right back in.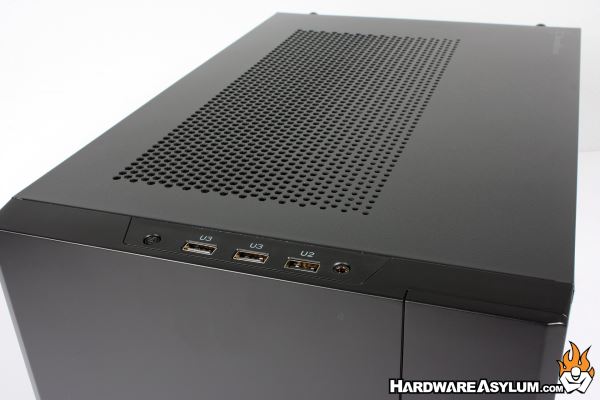 The same can work for the other vents in this case including the top fan mount. If this is configured as another intake, adding a gasket or mounting the fan directly to the top panel will help considerably.
While these cooling mods will help get air moving inside the case, they are not universal fixes. SilverStone set out to create an elegant chassis and I feel they succeeded and while adding gaskets and blow holes will improve performance, they are not good things from a sales standpoint as a build from one user will never match another which explains why there are six build configuration examples on the SilverStone website.
Conclusion
Overall, I like the new layout and SilverStone has done a great job at improving on the SFF case design. Having the PSU located between the video card and external drive bay is very unique and a good use of space that would otherwise be wasted. Having the AIO and video cards near the vented side panels is also a nice touch giving them the best chance at getting clean air without disturbing the external design of the case.
This case does not come with tempered glass side panels or features any fancy RGB lights but does come with the option to orient the case differently depending on how you install the included rubber feet. If you place them opposite of the external drive bay you have a pretty standard tower design while putting them under the motherboard gives the case a more desktop appearance.
In terms of performance the SUGO 14 is unlimited in what it can support. You get options to install triple slot video cards, 240mm and smaller All in One watercoolers, tower coolers under 182mm and a variety of storage options from 3.5" hard drives and up to three 2.5" SSDs
Good Things
Compact Design
Triple Slot Video Card Support
240mm Radiator Support
All Four Panels can be Removed
ATX PSU Support
Elegant Design
Can be Rotated
Fan Filters Included
Bad Things
No cable management
Limited cooling options
Hardware Asylum Rating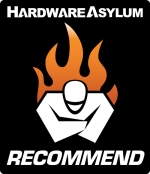 SilverStone Sugo 14 Mini ITX Case Review
Recommend
https://www.hardwareasylum.com