Thermaltake Ceres 500 TG ARGB Case Review
Author:

Darren McCain
Published:
Monday, April 17, 2023

Case Customizations
Another nice feature is the included GPU support bracket. This bracket can be added to your installation to keep your expensive new graphics card from sagging.
Graphics cards are supported up to 425mm or 395 with a typical 360mm radiator mounted up front. CPU cooler height I supported up to 185mm.
The Ceres 500 does ship with the bracket for a vertical GPU installation but the ribbon cable for the riser is sold separately. Note: These guys are not cheap!
Thanks to the larger size of the Ceres chassis, we have room for multiple cooling options in the top and front locations. The top supports up to three 120 or 140mm fans or radiators up to 360mm or 420mm. Up front, you can replace the included 140mm CT140 ARGB fans with another radiator up to 360mm or 420mm.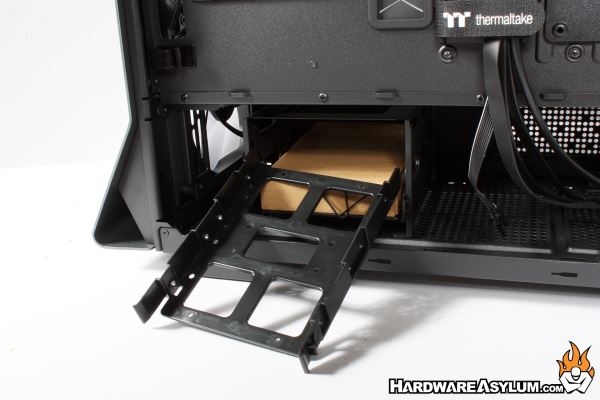 Two more dust screens protect the venting on each side of the power supply. A removable mounting plate helps make installation easy! PSU max length is 220mm. two removable drive bays are located 85mm behind the power supply. Both of the trays will support a single SSD or a rotational drive.
The back of the motherboard tray provides a massive access hole for heat sink installation. The open design extends to the back providing a pretty generous inch or so for cable routing and easy access to the back of the motherboard.
Two additional storage panels allow for up to 4 more SSDs bringing your total to 8 possible drives (or 5 traditional drives). Each of the three panels can also be used to mount a single rotational drive if you desire or removed completely to clean up the install.