Thermaltake Level 10 GT Case Review
Author:

Dennis Garcia
Published:
Tuesday, July 26, 2011

Case Layout and Features
One of the coolest features on the Level 10 was the individual HDD trays that used their aluminum housing to help keep the drives cool. A similar feature has been incorporated into the GT edition and can be found in the lower right of the case. There are 5 external 3.5" drive bays located here each in its own plastic HDD tray. To remove the drives you must first unlock the bay area and press the button to release the tray.
Some people like to say these trays are "hot swappable" however without a control board that would be impossible. Thermaltake calls this bay design "easy swap" which allows you easy access to the drives while still providing keylock security. Each of the bays is wired for power however removing a drive while your system is running will cause the system to crash.
Drive cooling is handled by a front mounted 200mm fan and ample venting between the drive bays. Due to the nature of the easy swap bays the entire unit cannot be easily removed and thus renders this lower section useless for anything else.

The upper section of the Level 10 GT is dedicated to house four external 5.25" drive bays and a single external 3.5" bay. All of these bays are tool-less designs with the clips located under the back panel. The large outcropping is vented but serves no purpose other than looks and a convenient location to hang the included headphone mounting hook.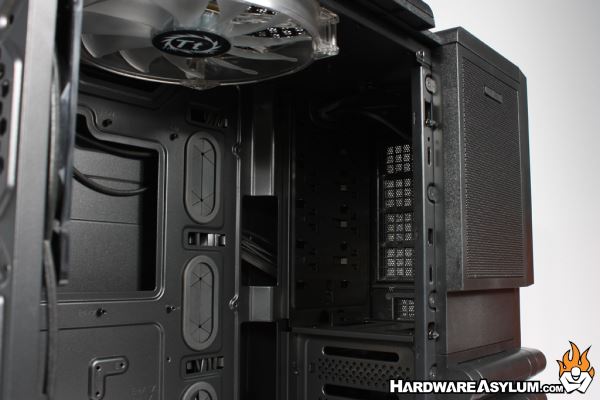 Modders will enjoy the fact that this entire side assembly can be removed, both top and bottom with a few screws. The upper section features a large cavity that can hold additional fans or even lights to help dress up that section of the case. The lower drive tray assembly is also removed the same way to reveal a rails used to hold the drive trays in place.