Thermaltake Level 10 GT Case Review
Author:

Dennis Garcia
Published:
Tuesday, July 26, 2011

Conclusion
First impressions can really tell you a lot when it comes to chassis design and as you can imagine they are not always all that accurate. We first saw the
Level 10 GT at CES 2011
and were immediately impressed at how large the case was but were actually put off by the overall styling. It almost seemed too big with the impression that the designers tried too hard to replicate the styling of the Level 10 by faking everything about it.
After closer inspection we can clearly see what really makes the Level 10 GT the unique case it is and why it seems so large. Visually the case is divided into 4 sections. The lower right features the Thermaltake easy swap HDD system giving you external access to your harddrives while still retaining a keylock security system. To the left of the drive bays you will find a primary intake fan complete with airflow direction fins and a fine mesh dust filter. Each of the upper sections is for visual appeal featuring a vent and window.
Inside the case you will find support for 12" x 13" extended ATX motherboards and eight expansion slots which allow you to run triple and quad video card configurations with dual slot aircoolers. Of course the power supply is located at the bottom of the case which is also completely vented for a natural bottom to top free flow venting.
Despite the size we actually like the features found on the Level 10 GT especially the built in fan speed and LED light controller. We were not impressed with having the expansion card screws outside the case. It may be cheaper to produce but having to remove a cover plate to install an expansion card is bothersome and reflects poorly on overall quality.
There aren't too many modding opportunities with the Level 10 GT. Of course custom colors are always an option however DIY watercooling can be difficult depending on what you are wanting to do. Pump locations appear to be at the bottom of the case near the 3.5" drive cage or placed in the 5.25" drive bays. Your best bet for a reservoir would be a bay design or something integrated with the pump. You will find plenty of room for a dual fan radiator at the top of the chassis. Or, if you feeling adventurous something could be modded into the front of the chassis taking advantage of the fully mesh front panel.
Good Things
Good Motherboard Support
Eight slots for Multi GPU
USB 2.0 and 3.0 Ports
Fan Speed and Lighting Controls
Three 200mm LED Fans
Carrying Handle
Removable Side Door
Door and Drive Locks
Side Window
Bad Things
External expansion slot screws
One sided design with back panel flat and plain
Side Window
Ninjalane Rating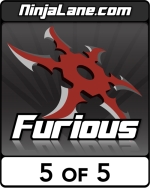 Thermaltake Level 10 GT Case Review
Furious 5 of 5
https://www.hardwareasylum.com