Thermaltake Level 10 GT Case Review
Author:

Dennis Garcia
Published:
Tuesday, July 26, 2011

Introduction
Cases come in all shapes and sizes and while there are some truly unique designs out there the majority of them are simple square boxes with complex façades to hide the inner workings. This practice is quite common and allows designers to add just about any of the commonly accepted cooling technologies and then choose to highlight those features to disguise them as something else.

In 2010 Thermaltake partnered with BMW to design a unique chassis for their 10 year anniversary, the result was the artful Level 10 case. The BMW designers came up with a free standing tower chassis that featured individual compartments for each of the computer components. Needless to say this case was big, expensive and looked amazing. The expensive part is what kept most users from buying this piece of history and which we believe lead the Thermaltake designers to create the case featured in this review.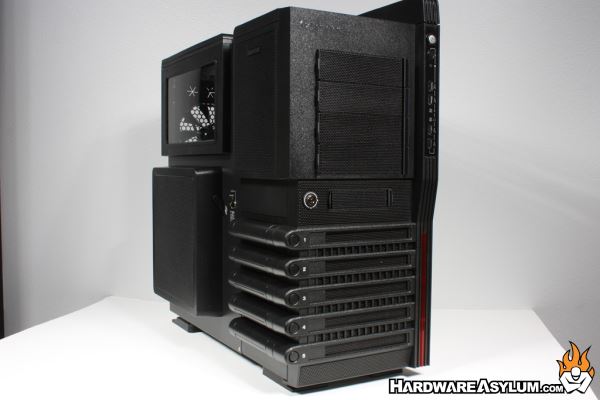 The Level 10 GT is a Level 10 inspired chassis that features the same body lines found on the Thermaltake Level 10 but are done to fit within the confines of a standard chassis. Our question is to find out if all of those body panels help or hinder the overall case design.

We like to look at a chassis from a casemodders perspective which will look beyond the basic things like if a motherboard will fit and concentrate on things such as overall construction, cooling options, and style. The rest you should be able to glean from the spec sheet or photos in this review.

Much like the original Level 10 the front and back of this case are completely different. You will find that the front of the case has been divided into 4 sections each with their own purpose while the back of the case is a simple embossed panel with a logo in the lower right.

How you place this case around your desk may reflect your inner personality but one thing is for sure, it will be noticed.