Thermaltake Tower 200 with LCD Review
Author:

Darren McCain
Published:
Friday, September 1, 2023

LCD Display
Thermaltake offers an LCD panel kit for every member of the Tower series. These kits can be purchased with the cases or added on later. Honestly, I am pretty impressed you can match every color of the Tower 200!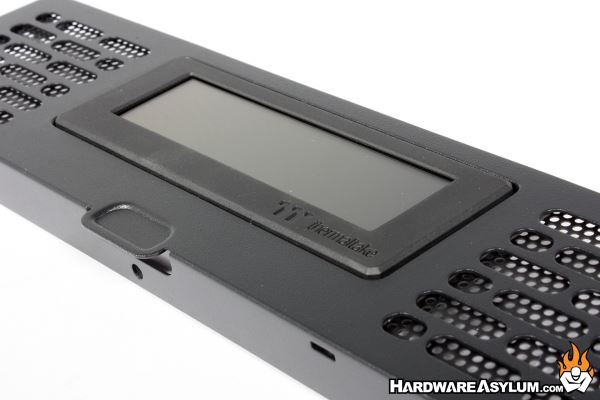 LCD Panel Kit Specifications
P/N: AC-066-OO1NAN-A1
MODEL: LCD Panel Kit
DIMENSIONS:
3 x 76 x 277.5 mm
72 x 2.99 x 10.93 inch
NET WEIGHT: 0.34 kg / 0.75 lbs.
COLOR: Black
DISPLAY:
Rated Voltage: 5V
Power Input: 14W
Display Type: 3.9" TFT-LCD
Display Resolution: 128 x 480 (RGB) px
DISPLAY SUPPORT:
Interface: Micro USB to USB (9 PIN)
System Compatibility: Windows 10/11
The LCT kit is quite light at only 0.34 kg / 0.75 lbs. With power provided by the included Micro USB to USB (9 PIN) cable. The cable does have two Micro USB ends for some other USB device you might have?
Installing the LED kit is as simple as removing the lower front panel and replacing it with the panel containing the beautiful 3.9" display. There is even room for some venting on the sides.
To use the display, you will need to download the latest version of the TT RGB Plus 2.0 software. We tested with Version 2.1.4.
The software will let you choose what information you would like to present in real-time from the available options in the drop down. You can even customize the colors and brightness.
Perhaps more interesting is the ability to stream from any active window. We chose to display a piece of CPUz for this example but you are only limited by your imagination and the size of the display.
Thermaltake even provides a pretty solid selection of animated GIFs for your LCD display here.