Thermaltake Tower 500 Review
Author:

Darren McCain
Published:
Tuesday, October 18, 2022

Case Layout and Features
The overall design of the Tower 500 is based around the vertical three windowed design but the cube shape is also not that common. Measuring 608 x 388 x 398 mm (23.9 x 15.3 x 15.7 inches), the Tower 500 is still one of the largest case designs we have seen here at the labs!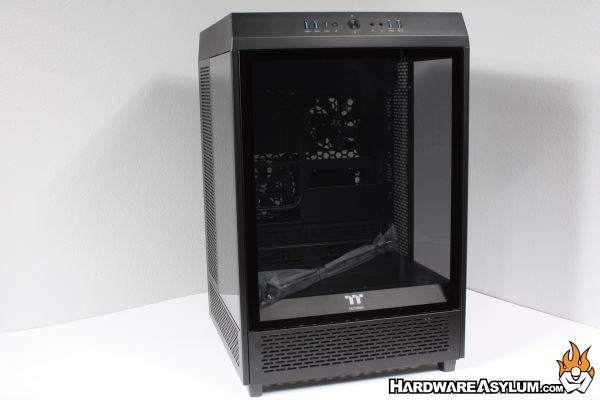 All that space allows for larger components like recently released RTX 4xxx series cards and radiators up to 360mm thanks to a radiator mounting bracket system. The bracket floats the radiator on the front right side with room for a full push pull fan setup.
There is also an option to mount an additional radiator in a horizontal or vertical orientation, up to 1x240mm, in the base which could lead to some cool ground effects lighting.
If that's not your speed an optional LCD monitor kit can be purchased to go in the bottom panel location. Its compatible with the TT RGB software making customization and sinking with your other supported lights a snap.
The back surface has the only sign of a more traditional build with the bottom power supply mounting. a large magnetic dust filter covers the two preinstalled fans and protects the drive mounting area. Two more removable dust covers dust covers protect the venting on the sides and bottom to help keep things clean.
Two preinstalled 120mm fans which work with the towers venting to create a chimney effect pulling hot air in and up through the top of the case
The top panel is removable providing access to the top via a simple push lock system. This gives access to all of the external expansion slots and cabling.
That's right, the Tower 500 moves the motherboard mounting 90 degrees to aim the expansion slots towards the top. This cleans up the aesthetics and routes the cabling out the slot in the top back.