Cooler Master MasterLiquid Maker 92 AIO Watercooler Review
Author:

Dennis Garcia
Published:
Tuesday, November 08, 2016

Conclusion
When I first saw photos of the MasterLiquid Maker 92 I instantly had flashbacks to a small self contained watercooler I saw during Comdex back in 2002. On the trade show floor there was this heatsink called the Aguatec Blue Ice and was one of the first instances where designers tried using water to increase thermal capacity. Thing was you still had to cool the water and despite having good mass the radiator was quite small.
Granted that was over fourteen years ago and watercooling has come a long way since then. In this review I looked at the Cooler Master MasterLiquid Maker 92 which is a compact AIO cooler using a 92mm radiator. The unqiue thing about the cooler is that instead of having to mount the radiator remotely it is directly attached similar to a tower style heatsink. The pump is located above the radiator and connected to the waterblock by two braided FEP hoses.
One of the selling points of the MasterLiquid Maker 92 is the fact that you can get an AIO cooling solution without the need to find a location for the radiator. This opens up your installation options to cases that wouldn't normally support watercooling such as old cases and smaller MicroATX and MiniITX designs. You are also given two options to install the cooler depending on how much room you have to work with. By default the MasterLiquid 92 is positioned vertically and standing taller than a standard 120mm tower. if space is limited you have the option to rotate the radiator 90 degrees which reduces the height considerably.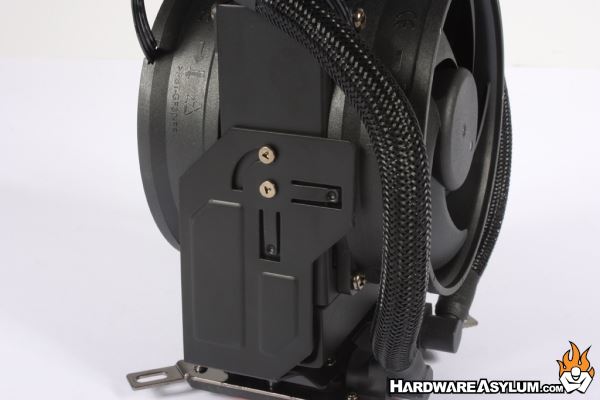 I found installation of the MasterLiquid to be extremely simple and yet a little frustrating. As I mentioned earlier in this review I had trouble accessing two of the mounting nuts because they were obscured by a cooling hose. I was eventually able to secure them using needle nose pliers which is not ideal. Interestingly enough I test on an open bench which allows me more access around the motherboard. Had the motherboard been inside a case using pliers wouldn't have been possible.
During my testing I noticed that the 92mm fans would come on in stages. By default the "pull" fan would spin all the time until the PWM signal hit about 50%. After that the "push" fan would ramp up to help cool the radiator. This is a little different from a typical AIO where you have control over both fans and in this instance I'm not bothered by it. In fact I think it is an excellent way to control noise and cooling performance.
Overall I am still very impressed with the MasterLiquid Maker 92. I wouldn't recommend it for a LGA 2011 system given however, any LGA 115x is a good match which also fits well with the theme of a AIO upgrade to an older system and smaller form factor builds.
Good Things
Quiet Operation
Unique Design
Quick Installation
Status Light
Dual Radiator Positions
Self Contained
Speed Adjusting PWM Fans
Braided Coolant Lines
Bad Things
Limited heat capacity
Tall for a 92mm cooler