Cooler Master MasterLiquid Maker 92 AIO Watercooler Review
Author:

Dennis Garcia
Published:
Tuesday, November 08, 2016

MasterLiquid Maker 92 Layout and Features
An interesting feature of the MasterLiquid 92 is its ability to have a vertical orientation or be flipped over 90 degrees. This can be beneficial for systems with limited space and also gives you a chance to cool motherboard heatsinks similar to what would normally happen with and OEM style cooler.
As I mentioned before the pump is located at the top of the MasterLiquid Maker 92 along with the power connections for the 92mm fans and the primary power connection. Much like with current AIO coolers you have to supply power to both the fans and the pump separately, Cooler Master has just combined them into a single plug and only one fan connection to the motherboard.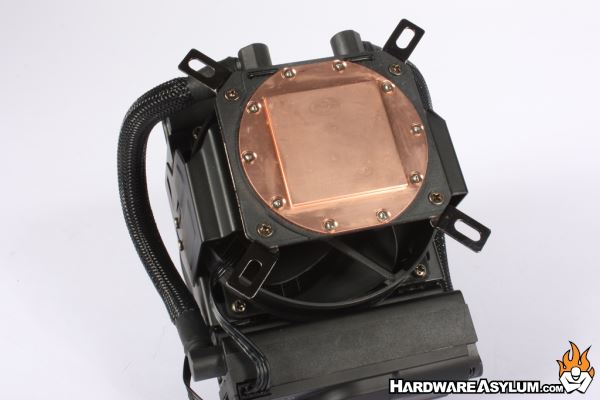 The cold plate design appears to be borrowed from the MasterLiquid 240 that I recently reviewed. Despite the simple design it fits LGA 2011 CPUs nicely and is machined such that it makes contact with the entire CPU instead of just the center. Mounting the cooler is also rather straight forward requiring stand-offs and nuts.
I was a little curious about how the MasterLiquid Maker 92 compared to standard 120mm tower style heatsink. Shown here is the Cooler Master MasterAir Pro 4 next to the MasterLiquid Maker 92 in both its vertical and horizontal configuration.
As indicated when in vertical mode the MasterLiquid 92 is quite a bit taller which is close to the 140mm tower size and when flipped horizontally is not much shorter. Rotating the radiator can help when space is limited but may still be too tall for many SFF installations.