Cooler Master MasterLiquid PL360 Flux AIO Cooler Review
Author:

Dennis Garcia
Published:
Tuesday, December 14, 2021

Conclusion
The Cooler Master MasterLiquid PL360 Flux is an interesting AIO cooler that has started re-imagining dual chamber design. Early MasterLiquid designs embraced the dual chamber by showing exactly how the cooler was constructed. This created a much taller cooler design that actually worked quite well. Later revisions started to make the cooler much more compact and the MasterLiquid PL360 Flux is by far one of the smallest dual chamber AIO coolers I have seen since the introduction.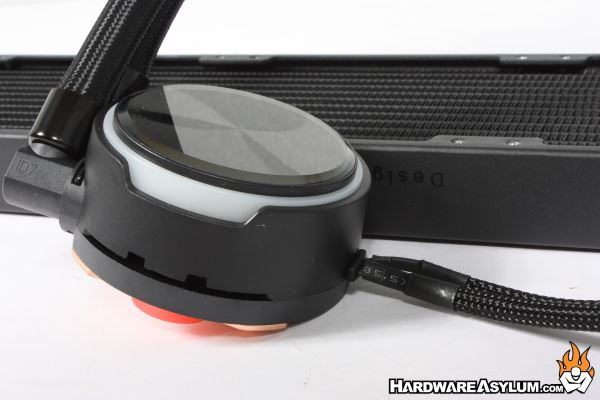 I found installation of the MasterLiquid to be extremely simple. The universal mounting system is straight forward virtually identical across any of the supported processor platforms. All you need to remember is to pick the correct mounting rails, install the standoffs and away you go.
During my testing I discovered that the Cooler Master MasterLiquid PL360 can handle and good amount of heat. As a complete package the PL360 did slightly outperform our reference cooler, if by only a single degree.
While I am not impressed with the new Flux fan design, I will admit they are extremely quiet and the edge ring does a great job at trapping the ARGB light giving them a nice even glow. I normally associate fans with an edge ring to be weak and cheaply made though at 120mm I'm not sure the ring is really making any difference.
The overclocking tests put the most stress on the cooler and despite the elevated temperature, everything worked great without any noticeable pump noise. The fans did spin up to compensate to the higher thermal load. While the C/W rating did rise between the default and overclocked tests the overall temperature was well within a safe limit.
Much to my surprise the ARGB lights on the PL360 Flux are rather subdued with only a few lighting accents on the pump block. The majority of the lights can be seen on the fans.
Overall, I am a little underwhelmed with the MasterLiquid PL360 Flux. From a performance standpoint the Flux delivers showing that it can handle everything the Alder Lake can deliver while also supporting TRX40 Threadripper and still has some room to grow. The cold plate design finally has additional mass for better performance and the lighting effects are really good.
Despite the amazing ARGB lighting I am not a "fan" of the new Flux fans and am convinced that this cooler would be better had Cooler Master used the Masterfan MF120 Halo fans. You still get the center ring of ARGB light plus an additional light ring around the outside that perfectly matches the elegant light ring on the pump block. Performance would be the same, if not better and the overall package would have much better curb appeal.
Good Things
Quiet Operation
Unique Pumpblock Design
Quick Installation
ARGB Lights
Braided Hoses
Great Performance
Bad Things
Should have used the Halo Fans
Hardware Asylum Rating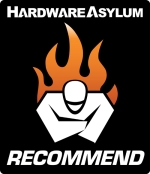 Cooler Master MasterLiquid PL360 Flux AIO Cooler Review
Recommend
https://www.hardwareasylum.com