Enermax Liqmax II 240 AIO Cooler Review
Author:

Dennis Garcia
Published:
Tuesday, May 01, 2018

Introduction
The AIO or All in One watercooler bridges the gap between high performance air cooling and the more involved DIY watercooling loop. It offers better performance over most aircooling solutions and is 100% maintenance free which can be a huge bonus over a DIY water loop. Of course AIO watercooling does have a few fundamental flaws which don't matter when it comes to any consumer level system build.
In this review we'll be looking at the Enermax Liqmax II 240 AIO cooler. As my introduction suggests this is a self contained (All in One) watercooling solution featuring a 240mm radiator. The 240mm indicates the size of the radiator and many fans it can support. 240mm would be a dual 120mm fans whereas a 280mm would be dual 140mm fans.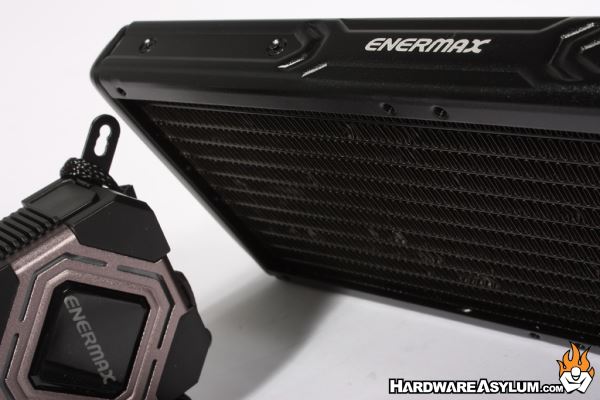 Most AIO coolers are functional in their design and while cooling your CPU is important none of them are much to look at. Radiators often feature flat sides and pump blocks are either super flat or excessively tall. The Enermax Liqmax is a little different in that it actually features some design elements.
Along the side of the radiator you'll find some creative embossing with a white silkscreen Enermax logo in the center. The pumpblock is a little taller than the round pucks typical of asetek designs and features a metal frame with a backlit pump cover. The same Enermax logo can be found in the center.
The pump base is a machined flat copper cold plate that is large enough to cover LGA 2066 cpus and of course anything smaller.
Adjusting the performance of an AIO can be done in a number of ways. You can increase the radiator size or you can increase the water flow. These two aspects share a ratio and while radiator size is a constant you can tweak things like pump speed and hose size to increase cooling performance. By the looks of it the larger diameter hoses should flow better and are backed by a 2700rpm pump rated at 50,000 hours.
Once the heat has been extracted it is the job of the radiator and fans to dissipate that heat to atmosphere. Enermax has included two 120mm PWM fans with the Liqmax II. Each fan feature rubber pads on every corner and a unique blade design. The blades work to direct air more evenly into the radiator by creating friction spots in the low velocity zones.
Most Enermax fans feature a speed limiter somewhere on the frame. On the Liqmax fans this is a three position switch located on the edge opposite of the fan tail. Speed limiters are not designed to replace PWM smart fan controls. Instead they give you the ability further control cooling performance by limiting how fast the fan can spin.
For instance 100% might be 1000rpm at one setting and then 2700rpm at another. Faster fans equal more noise and by limiting the upper RPM range you can have more control over the entire range using PWM fan curves.