EVGA Frostbite 2 Thermal Compound Review
Author:

Dennis Garcia
Published:
Friday, May 22, 2020

Conclusion
Our testing method is what I could consider "real world". We are using real hardware in a typical setting and while the test system was in an open bench the variables were monitored. To remove influence from the cooler the two 140mm fans on the Alphacool radiator were pushed to 100% and Prime95 was run using Small FFTs until three loops had completed. Ambient temp was also monitored to ensure that the intake air remained the same throughout the tests.
For the record
Ambient Air Temp: 18c
Water Temp under load: 24c
Intel 9900k clocked at 4.4Ghz @ 1.1v Core
Based on my testing I can honestly say that while the EVGA Frostbite 2 was the best of the bunch it was also a very close tie to the Gelid GC Extreme. It wasn't until I switched waterblocks that a real change happened and that as only by a single degree.
The EVGA Frostbite 2 is a very fluid thermal compound. It comes out very thin and spreads extremely well. However, once the paste sets it becomes firm and difficult to remove. While you could say this might impact temperatures over time I would counter in saying that with how little compound is left between the heastink and processor if the performance was to degrade you wouldn't notice it. This is also true of the Gelid GC Extreme for the same reason.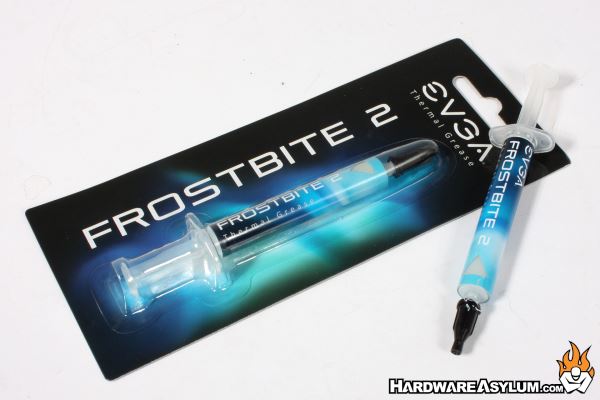 For some reason people kept asking me what the compound tasted like and for that I can honestly say I have no idea. However, if you really wanted to know then go buy a tube from EVGA and taste away.
Some final thoughts around the Frostbite 2: This compound isn't designed for subzero cooling but can handle temperatures between -40 and 180. That would make it perfect for a water chiller and Single Stage Phase cooling so that might be next on my agenda. I didn't notice any break-in for the compound as it appeared to work the same on first install as it did three days later. Setup time was extremely quick and would firm up after a single heat cycle.
Good Things
Great Temperatures
Easy to Install
Spreads Extremely well
Becomes Sticky after Installation
Basically Non-Conductive
Bad Things
Takes some effort to clean up
Only available in a 2.5 gram syringe
Not good for LN2
Hardware Asylum Rating