ModMyMods ModPaste Thermal Compound Review
Author:

Dennis Garcia
Published:
Thursday, March 23, 2023

Introduction
One of the most discussed aspects of custom PCs is thermal performance. In the early days the process of keeping your PC and components cool was not all that difficult, processors of the era did not run that hot and a simple heatsink was all you really needed. That is until hardware enthusiasts figured out that by changing jumpers or swapping out crystals you could make your system faster and deliver more performance without, needing to spend extra money.
The thing was, when you "over"clock your hardware it tends to generate excess heat. Too much heat would damage your systems so, it was important to keep your system as cool as possible to ensure you got the best performance.
In the modern world system cooling, overclocking and general performance is a balancing act between how much you are willing to spend over how much heat you are dealing with. Modern processors all have thermal limiters and reduce performance when they get too hot and overclocking is no longer about free performance but, the process of exploring the limits of the current hardware.
Both of these deal with the interaction between the heat source, and the cooling method and no matter how good you are or how much you spend on your hardware there is always going to be a need for something to bridge the gap and ensure that excess heat can be removed quickly.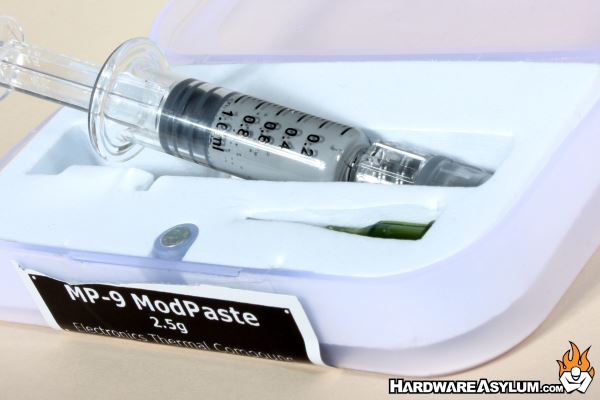 In this review we will be looking at some new Thermal Compound from ModMyMods called the MP-9 ModPaste. This product is labeled as an electronics thermal compound and has a few interesting features that make it different from other Thermal Interface Materials on the market.
One of the key features is the packaging. You will get the MP-9 compound in a plastic container with a magnetic latch. The 1ml syringe is made from Borosilicate Glass which is the same glass used in 3D Printer tops, Chemistry equipment, Electronics, Cookware and lighting. It melts around 1650 degrees C and might be one of the coolest containers I have ever seen.
To help with the application of the thermal compound, the syringe tip will twist off allowing you to apply directly or using the included 14GA Blunt needle tip. Using the 14GA needle was extremely satisfying and allowed for precise placement of TIM.
If you are the type who likes to spread their paste around you will get 4x Howard the Duck condoms, er Latex Rubber Fingertip Cots. Personally, I prefer the 5 Dot method which requires only 5 small dots of TIM on the CPU which is then spread once the heatsink has been installed.
This is not the first "Thermal" related product from ModMyMods. In 2020 ModMyMods launched their own line of Watercooling Coolant called "ModWater". This coolant is extremely good, safe for mixed metal cooling systems, PETG compatible and available in a wide variety of colors. We have a review of the ModMyMods Modwater coolant so, be sure to check it out and pick up a few bottles from the ModMyMods webstore.