Noctua NF-A12x25 and NF-P12 Redux Fan Review
Author:

Dennis Garcia
Published:
Monday, December 31, 2018

Noctua NF-A12x25 All Purpose Fans
The first fan is the Noctua NF-A12x25. This is a completely new design with a whole host of features.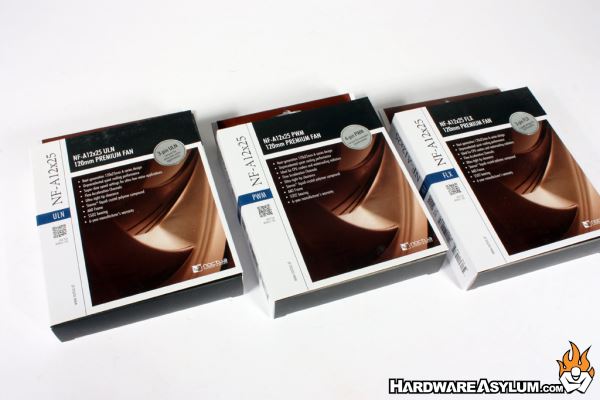 Specifications
Next-generation performance
Highly optimized P/Q curve for all applications
Excellent on-application acoustics
Flow Acceleration Channels
Ultra-tight tip clearance
Metal-reinforced motor hub
Sterrox® liquid-crystal polymer compound
AAO frame
Stepped Inlet Design
Inner Surface Microstructures
Integrated anti-vibration pads
Anti-vibration gasket for watercooling radiators
SSO2 bearing
Metal bearing shell
Custom-designed PWM IC with SCD
Stops at 0% PWM
Smooth Commutation Drive 2
Low-Noise Adaptor
Extensive cabling options
Optional adaptor for 140mm watercooling radiators
6-year manufacturer's warranty
I don't want to take away from the excellent documentation on the Noctua website so be sure to check out the Noctua website for a full set of specs and details on the above features.
We'll be going over some of the important features below.
Design
The design of the NF-A12x25 is very unique. When I first saw this cooler I was attracted to the extremely large fan hub. Normally this means that the motor is huge leading to a very powerful design. Much to my surprise the motor is really quite small and the large hub was the result of an acoustic decision. We all know that the area behind the motor is dead when it comes to airflow and there is a range on the length of a fan blade to the point where the air is moving fast enough to become efficient.
Near the hub is not one of those locations.
The hub itself is metal reinforced and made entirely from steel. The axel is also reinforced with additional brass to ensure that the fan spins true for the ultimate precision and stability. Think of it as a gyroscope with the weight of the fan hub keeping the fan stable.
Many of the other features listed above are common to Noctua fans like the stepped inlet to increase turbulence right before the air enters the fan and flow acceleration channels to increase efficiency and reduce vortex noise.
One feature that you will see with competitor (and non competitor) fans is that the design for the fan is often a scale of a smaller design. This reduces cost and allows the manufacturer to get to the market quickly. Noctua has been working on the NF-A12x25 for several years not only to make the offering perfect but also in experimenting in how they can produce the fan and ensure it will meet their strict quality standards.
When you're dealing with a product with 0.5mm of fan tip clearance if the fan blade is not thick enough it can flex and make contact with the fan shroud. If the blades are too thick they can introduce excess noise and lower performance. This is one reason why Noctua calls out the Sterrox liquid crystal polymer compound as their fan blade material due to the strength and thermal expansion coefficient.
Noctua is very proud of their NF-A12x25 as it really is a fan that can do anything. It offers a very smooth curve between pressure and airflow making it a good fan choice for a variety of conditions from densely packed radiators to heatsinks and PC Cases.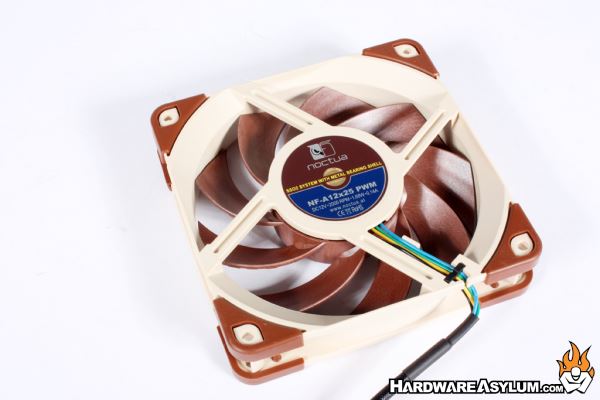 As I mentioned before this fan is available in three different variants which all indicate the type of motor installed.
PWM: This version allows the fan to be precisely controlled by the motherboard. These are great for heatsinks and will allow the fan to spin between 450 and 2000rpm with a noise level of 22.6dB(A)

FLX: This is your standard 3-pin fan with RPM sensing. This fan does not have a PWM controller and will spin between 1350 and 2000rpm with a noise level of 22.6dB(A)
ULN: or Ultra Low Noise, this fan is similar to the FLX and comes with a 3-pin fan tail with RPM sensing. The motor is RPM limited and will spin at a constant 1200rpm with a noise level of 12.1dB(A)
All of these fans can be further adjusted with the LNA adapter which will reduce the fan speed and lower the noise ceiling. These can be helpful when the fans are connected directly to a power supply or have no external controls.