Noctua NT-H2 Thermal Compound and Cleaning Wipes Review
Author:

Dennis Garcia
Published:
Tuesday, May 07, 2019

Conclusion
Our testing method is what I could consider "real world". We are using real hardware in a typical setting and while the test system was in an open bench the variables were monitored. To remove influence from the cooler the two 120mm fans were pushed to 100% and Prime95 was run until three loops had completed. Ambient temp was also monitored to ensure that the intake air remained at 25c throughout the testing.
For this review I used three thermal compounds. The first was a baseline control test with some generic "Thermal Grease" that I had laying around the lab. I think it was included with an aftermarket heatsink and was promptly put into the "box". Noctua NT-H1 and NT-H2 are the real contenders here and I was surprised to see a 1 degree drop between the two and a two degree drop between the NT-H2 and the generic thermal grease. These numbers confirm the findings from Noctua where they saw a 2 degree drop between their compounds from their internal control tests. Short of a resistor based thermal test bench I'm not sure these numbers could be improved any further.
One aspect of thermal compounds that I mentioned before is viscosity and how easily the compound can spread. You can see the results of this by looking at the bottom of the heatsink once it has been removed.
The Noctua NT-H1 shows good even coverage and you can see the high spots in the processor where it was making good contact with cooler.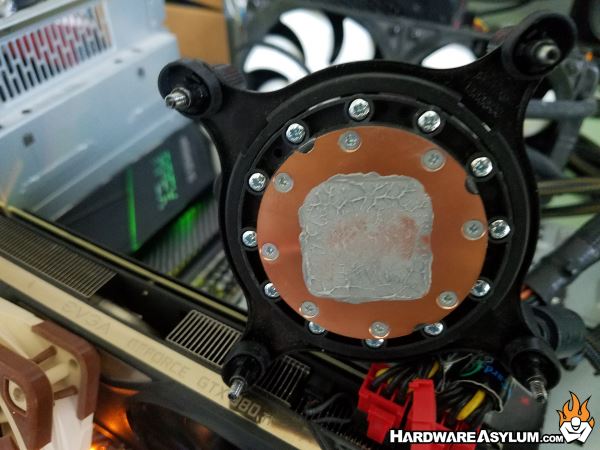 The Noctua NT-H2 shows similar coverage however the biggest difference is that due to the thinner compound it spreads much easier exposing more of the heatsink and promoting a better thermal connection.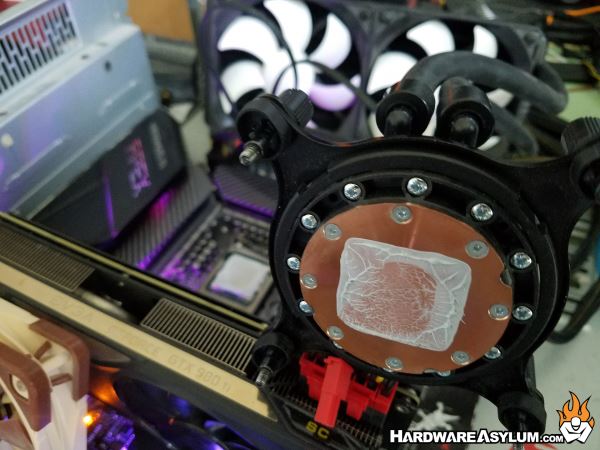 Testing thermal compound is a very time consuming process and I am happy to report that the new Noctua NT-H2 delivers exactly what you should expect. Overall there is improved thermal performance and the lighter viscosity helps the compound spread better and promote more metal to metal contact further improving performance. Personally I am a fan of both compounds. I have used the NT-H1 for over 10 years in everything I do at Hardware Asylum from heatsink reviews to motherboard reviews and many of my overclocking projects.
Temperature wise NT-H2 is good between -50c and 200c indicating it isn't to be used for LN2 but can be used in water chillers, SS Phase chillers and DICE (Dry ICE) where temperatures will get below ambient and still above -50c.
For more information on the Noctua NT-H2 including a full set of specifications check out the product page on the Noctua website.
Hardware Asylum Rating