Raijintek Pallas Low Profile Heatsink Review
Author:

Dennis Garcia
Published:
Tuesday, August 19, 2014

Introduction
When shopping for a low profile cooler you begin to realize a few things. First most low profile coolers are not really that low and either require a tall fan or come with tall fins. Second, the cooling capacity of such a coolers is often proportional to how tall it is. Third, given the first two conditions the low profile coolers tend to be difficult to find. We have reviewed plenty of coolers over the years, some tall and some small and only once have we found a really good low profile heatsink. Sadly, that was back in 2009 so when we got the opportunity to review another we had no choice but to say yes.
In this review we are looking at the Raijintek Pallas. This is a low profile cooler which is configured to handle all modern processors including heat monsters like the LGA 2011. The cooler features design principles found on other high-end high-capacity heatsinks which should allow it to perform quite well. The design doesn't focus so much on noise control but rather thermal efficiency and quality construction.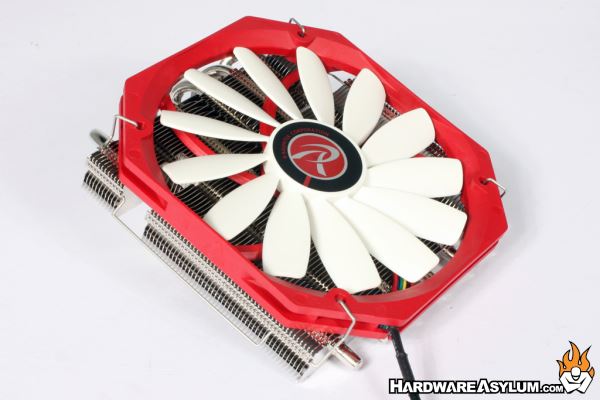 The cooler comes with a variety of features to keep overall height in check and the first of these is the 140mm x 150mm x 13mm variable speed fan. This is a PWM unit that will spin between 650 and 1400 rpm and move about 56CFM at full speed. The mulitblade design helps with fan pressure also aslo keeps noise footprint around 28 dBA .
You will find a total of Six 6mm heatpipes on the Pallas that are then spread evenly across the flat radiator surface. The cooling fins are densely packed and feature thicker than normal fins to provide more surface area and thermal mass.
The heatsink base is polished flat and features nickel plated surface for durability. You will find that the heatpipes are positioned close to the processor with a sizeable chunk of metal sitting on top. This is a great design as it helps the heatsink become more efficient by ensuring one end of the heatpipe is always warmer than the other.
The radiator does feature a slight edge texture that is not only cool to look at but also adds surface area to increase cooling capacity. You will find the majority of these in the low pressure areas under the fan which seems like it should be a good idea.