Cooler Master TPC 812 Performance Cooler Review
Author:

Dennis Garcia
Published:
Sunday, April 15, 2012

Conclusion
Cooler Master claims that the TPC 812 can deliver the performance of a compact watercooler in a simple tower cooler design and, based on our benchmarking results, we can believe that. As our benchmarks showed the TPC 812 actually got more efficient at 4.7Ghz and still kept the load temperature within an acceptable range.

Overall heatsink construction is extremely good and features a six heatpipe design that staggers as they enter the radiator. The position of the heatpipes promotes exposure to oncoming air while still retaining good airflow characteristics. You will find two vertical vapor chambers located in the center of the TPC 812 and work to increase overall heat capacity. As we noticed in our heatsink tests the vapor chambers tend to work best under higher heat loads which would indicate, to us, that the standard heatpipes do the most work while the vapor chamber kicks in under higher loads.

Installation was rather straight forward and consisted of picking the proper configuration and bolting the entire assembly to your motherboard. The LGA 2011 procedure does simplify the process by eliminating the need to install the universal back plate. We would have liked to see a little more pressure applied but given the results it may not have been necessary.

Good Things
First Ever Vapor Chamber Design
Excellent Heat Capacity
Solid Construction
Dual Fan Capable
Powerful Fan Included
Bad Things
Would like to see better mounting hardware
Ninjalane Rating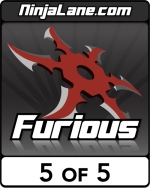 Cooler Master TPC 812 Performance Cooler Review
Furious 5 of 5
https://www.hardwareasylum.com