Cooler Master TPC 812 Performance Cooler Review
Author:

Dennis Garcia
Published:
Sunday, April 15, 2012

Introduction
When it comes to standard cooling solutions you have plenty of options to choose from. However, aircooling is often a limiting factor in the pursuit of the optimal cooling solution leaving you to with the exotic watercoolers to choose from. So what if you could get the heat performance of a watercooler from a standard air tower? Would you be interested??

In this review we will be looking at the new Cooler Master TPC-812 True Performance heatsink. The cooler features a hybrid cooling design consisting of six 6mm heatpipes and two vertical vapor chambers. Aside from the new vapor chambers the TPC 812 is your standard tower cooler with an alternating heapipe configuration. The edges of the radiator feature a unique pattern that helps to increase surface area and also aid in visual appeal.

Looking at the fin detail you may also notice that the fins are a little thicker than on your standard cooling tower. The extra material does add some weight to the cooler but makes the fins stronger and will resist damage.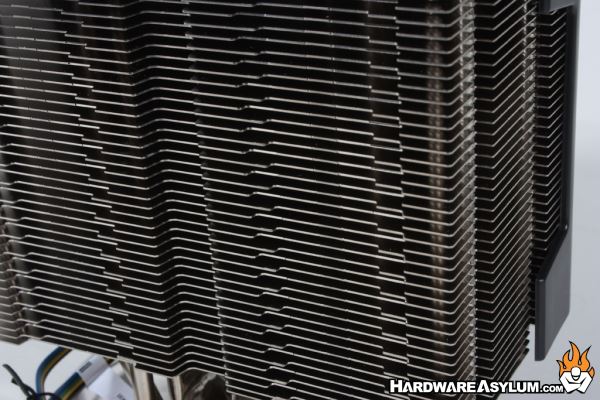 Incidentally the fin interlock is located along the side of the cooler in the channel that the fan connects to. At first we didn't even notice it was there.

The Cooler Master TPC 812 features six 6mm heatpipes sitting atop a solid heatsink base with a micro texture finish. We have mentioned before how this micro texture will help spread thermal compound better and reduces the chance of air bubbles. The solid base also helps with thermal capacity giving the heatpipes more mass to work with.

Vertical Vapor Chamber
The key cooling feature of the TPC 812 is the dual vertical vapor chambers that connect the heatsink base to the radiator. You will find the chambers setting atop of the six heatpipes and proceeding directly into the center of the radiator.

This would be the first time we have seen a vapor chamber on a tower style heatsink but not the first time we have seen them used in a computer system. In fact Sapphire was the first to make the vapor chamber popular using them on their Toxic line of video cards. nVidia followed this trend in a bid to keep the stock GTX 580 from overheating.