Thermaltake Pacific PR22-D5 Pump Reservoir with Silent Kit Review
Author:

Dennis Garcia
Published:
Tuesday, June 07, 2016

Pump Res Layout and Features
The PR22-D5 is constructed of two major parts. On top is the PR22 res with the D5 pump located at bottom. Here I have removed the D5 pump to show the completed res assembly.
At the top you will find two ports, one with an extension tube and one without. It is important to note that the extension tube is for the return line and helps to prevent gravity from bleeding the entire system. Simply fill the res so that the tube is submerged and it will hold back whatever water is staged above.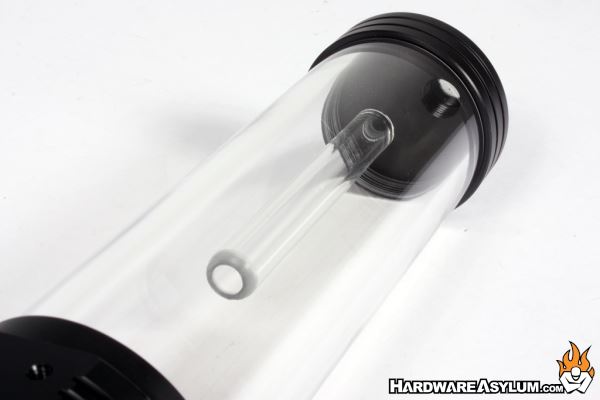 According to the TT Premium website the endcaps on the reservoir are removable so you can clean everything. I tried to get them separated and was unable to do so. This isn't a bad thing as it ensures coolant will remain inside the system even under extreme pressure. I'll try harder when it comes time to clean everything.
At the base of the PR22 you'll find the custom D5 pump top. The base is well made with a smooth transition from inlet to outlet to ensure the most efficient operation with very little resistance.
Along the side you will find to sets of screw holes for attaching the mounting brackets. Here you can also see the G 1/4 outlet that has been machined into the base. The opening is just large enough to support the Themaltake hardline fittings. Or any other fitting you choose to install.
The final component of the PR22-D5 is the Silent Kit Pump Mod. While mod might symbolize some sort of performance modification it is really just a thick aluminum cover to reduce noise. At the bottom you'll find the TT logo which can also be reversed if you going for a clean, "no logos", look.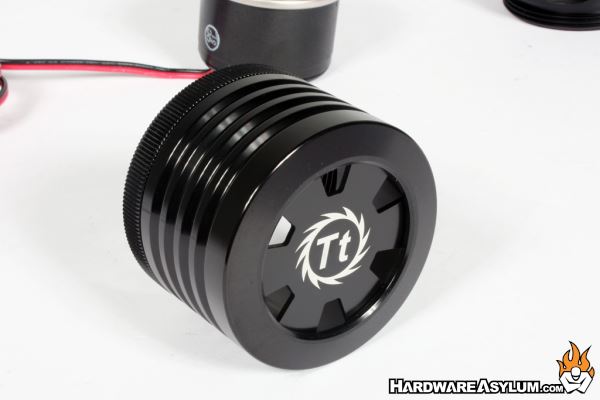 The pump mod screws into the bottom of the pump top and takes the place of the ugly spiked collar normally used to install the pump. Just be sure to align the gaps in the logo plate with the D5 speed switch and you'll be able to control the pump speed without tearing the system apart.