Thermaltake Pacific PR22-D5 Pump Reservoir with Silent Kit Review
Author:

Dennis Garcia
Published:
Tuesday, June 07, 2016

Introduction
One of the most important components of any watercooling system is the circulation pump which is tasked with moving coolant throughout your loop. Without it your cooling system cannot function, components may fail and hardware enthusiasts will be said. Another important component that is often considered optional by many cooling enthusiasts is the coolant reservoir. This small tank holds excess coolant and makes filling your loop considerably easier.
Normally these two components are installed separately however by combining them you not only make installation easier but reduce the chance of leaks and airbubbles given the fewer hose connections.
In this review I'll be looking at the Thermaltake Pacific PR22-D5 pump reservoir combo. The PR22 comes with the Thermaltake Silent Kit pump cover that is claimed to reduces noise by 10% and makes the bottom part of the combo look really good.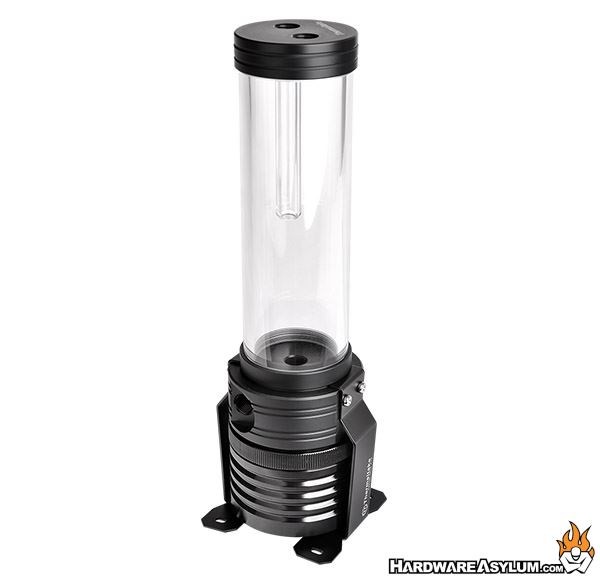 Specifications
Dimensions: 3.7(L) x 3(W) x 12.2(H) (94.1mm x 78mm x 309.7mm)
Capacity: 300ml
Weight: 3.2 lb (1440 g)
Material: POM + PMWA
Maximum Head: 15 feet (4.5m)
Maximum Flow Rate: 300 Gal/h (1135 L/h)
Maximum Pressure: 50PSI
Input Voltage: 8 – 24 V
Connector: 4-pin Molex
Pump Speed: P1 = 1800RPM / P2 = 2550 RPM / P3 = 3300 RPM / P4 = 4050 RPM / P5 = 4800 RPM
Screw Thread: G 1/4
Features
Reservoir and D5 pump combo unit with pump mod kit
220 mm long reservoir with 300ml capacity
High performance pump for high flow system
Easy installation
Anyone familiar with watercooling will have undoubtedly heard of the Laing D5. It has been a very popular 12v pump for many years and helped migrate enthusiasts from using pond pumps in their watercooling loops. The pump is extremely compact and can be modded to support custom pump tops including those attached to reservoir tanks.
The PR22-D5 is a combination of the PR22 reservoir with a custom pump top at the base which is then matched up with a variable speed Laing D5 pump. The Silent Kit or "pump mod" is the pump cover that helps dress up the combo and also reduces pump noise which is already near silent in stock form.